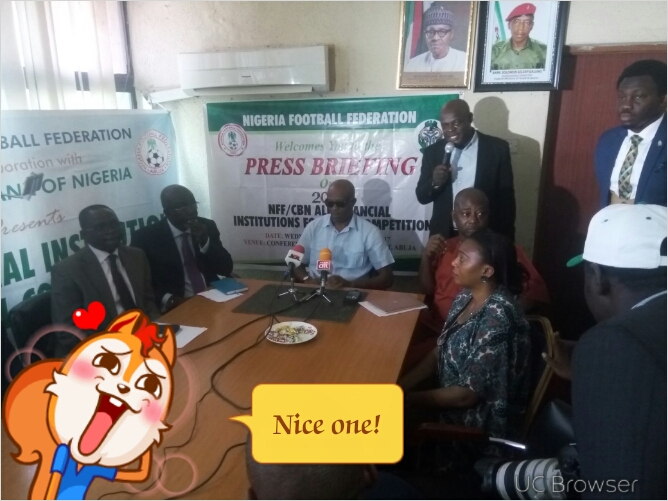 CBN game kicks off Oct 14, as NFF drums support
JOEL AJAYI ABUJA
No fewer than 20 financial institutions will as from 14th October begin 2017 a
All Financial Institutions Football Competition organized by Central Bank of Nigeria in collaboration with the Nigeria Football Federation, NFF.
Speaking yesterday, in Abuja at a press briefing for the commencement of the 31st edition of CBN tourney, the country's Apex Bank Ah. Director Corporate Communications Department Mr. Issac Okoroafor who was represented by Elder Martins Oguda said the competition has impacted the CBN, NFF and Nigeria at large.
According to him, In recent editions, we have observed an increase in the number of microfinance banks participating in the competition.
"This is an indication that the impact of this competition is being felt at the grassroots level where budding talents are often discovered and nurtured to the level of national and international recognition.
"Competition of this magnitude serve as a platform for the promotion of unity, harmony and peaceful co-existence among institutions in Nigeria's financial system.
"The game of soccer is a unifying force globally and such, a source of national pride that is devoid of ethnic, regional and political colorations."
 
"CBN is therefore committed to making positive contributions towards the promotion and development of this sport by sponsoring the competition annually.
"We therefore, urge financial institutions and agencies of government who has been participated in the previous editions to encourage teams to be part of 2017 edition," he appealed.
On its part, NFF General SecretaryDr Mohammed Sanusi who was equally represented by Assistant General Secretary Dr Emmanuel Ikpeme promised to leave no stone unturned to ensure that 2017 NFF/CBN all financial institutions competition achieved it's objectives which are improving the health system of staff and building of a cordial relationship amongst the financial institutions in the country.
The preliminary matches of CBN Soccer tournament which is the 31st edition will be decided between October 14 and 28 2017 withAkure, Bauchi, Calabar and Owerri
as venues for group stage and quarter final.
Semi final Venue, will be Lokoja while Lafia Township Stadium remain tentative center for the final as Kaduna that was choose for the final is undergoing some renovations.
Meanwhile, the total prize money for 2017 edition remain N5 million Naira. Winner will go home with #2million, 2nd position #1.5million, while 3rd and 4th position will go home with #1million, #500,000 respectively.