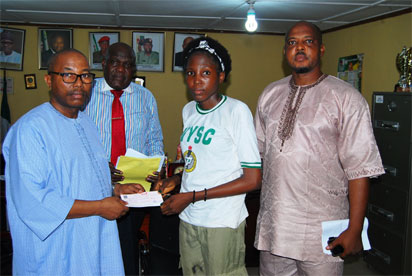 How NYSC safes corps member with open heart
The timely intervention of the National Youth Service (NYSC) has saved the life of a corps member, Miss Kehinde Ogunpaimo, as its authorities donated the sum of N3.5million to enable doctors at the Lagos University Teaching Hospital (LUTH) perform an open heart surgery on her
It was discovered that Kehinde Ogunpaimo, who hail from Ogun State and a graduate of Food Science and Technology from the Moshood Abiola Polytechnic, Abeokuta, was born as a set of twins with sickle cell cardiomyopathy in1992
Kehinde, had lived all along with the ailment since birth with her twin sister and had managed the usual health challenges that played out from time to time as a career.
Speaking on the issue, the NYSC Lagos State Coordinator, Prince Mohammed Momoh explained that the corps member was deployed to the state with severe disorderliness which was diagnosed with sickle cell cardiomyopathy by doctors at LUTH.
According to him, the doctors at the hospital had recommended a surgery to replace her mitral and aortic valves. He noted that the situation informed reason the Lagos State office of the NYSC encouraged her to apply for financial assistance which was granted by the Abuja Headquarters.
"Succour that came from the NYSC DG for Ogunpaimo with call-up number LA/165/0326 has made the operation possible.
This again restates the importance placed by the authority of the 44-year-old scheme on the lives of corps members in all parts of the country.
"NYSC is there for all corps members as a responsible organisation. We just want to assure adequate welfare for corps member to get the best out of them. It is our prayer that the operation will be successful and we are in prayer with the family."
The State Coordinator added that the intervention of the Brigadier-General Kazaure came handy at the point her parents were contemplating submitting the documents to their landed properties to obtain a loan.
Speaking in this regard, Kehinde Ogunpaimo who was elated by the gesture that she was short of words to expressed appreciation to the management of the NYSC and the Lagos State Secretariat. According to her, NYSC authorities came to her rescue at the most critical period of her life.