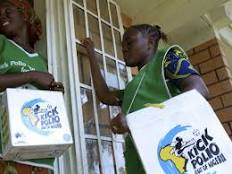 Polio: Low immunization coverage worries experts, partners as ERC meets in Abuja
 
Marcus Fatunmole (Abuja)
Though Nigeria has remained polio-free for over a year, there is yet a challenge of poor immunization coverage in some parts of the country, experts said in Abuja on Monday.
The development has become a source of worry to both local and international partners working on immunization in the nation, as wild polio virus could affect under-five children who are not vaccinated.
Recall that Nigeria missed the opportunity to be declared polio free in July this year by the World Health Organization, after it recorded few cases in security-compromised Borno State last year. The cases were recorded two years after the nation had interrupted the disease.
Nigeria is among the three polio-endemic countries in the world, the other two countries being Afghanistan and Pakistan.
Available data indicate that Nigeria has the largest number of unimmunized children, globally.
Poor immunization coverage took centre stage at the 34thmeeting of Expert Review Committee, ERC, where partners including United State Agency for International Development, USAID, World Bank, World Health Organization, WHO, among others said despite immunization situation in the country, especially in the northeast, the country would defeat the disease if good innovations are developed to immunize unreached children.
At the three-day event where experts appraise all activities on immunization in the country, calls were made for locally-sourced vaccines, improved funding by all tiers of government, and advocacy for immunization programmes in communities.
Speaking at the event, Senior Manager, Integrated Health ,USAID, Joseph Moneyin, said there were still gaps to be filled despite few successes achieved by the country on the disease.
"No one can confidently say when polio will be defeated in Nigeria if some areas are inaccessible," he said. He noted that USAID is providing complementary funding to support labs and surveillance for polio.
Moneyin identified IDP camps as some of the places where there had been vaccination challenges.
He cautioned against laxity in surveillance and vaccination, adding that immunization and monitoring in Lake Chad are very key to achieving desired results.
Senior Health Specialist, World Bank, Dr Oluwole Odutolu, said the bank had been a partner in the fight against polio and couldn't wait to see Nigeria defeat the virus.
He said 10 percent of poor kids have access to immunization in Nigeria, as he called for innovative approaches to ensure no one is left behind. He also restated the bank's support to ensure effective service delivery.
WHO's Acting Country Rep,Wondimagegnehu Alemu, called for new innovative to ensure partners and government address polio challenges. He said "coverage of the programme "has shown very dismal under-performance."
In a presentation, Executive Director, NPHCDA, Dr Faisal Shuaib, spoke on transformation initiatives, future of the agency and areas of support from the ERC and partners.
Shuaib said he was not only poised to reposition the agency, but to ensure it achieve all its mandates.
"NPHCDA's vision is to build a robust agency that will deliver tangible results to improve primary healthcare in Nigeria," he said.
He said he his management team had revamped the financial management framework of the agency to meet international best practices.
He said he would he ensure the country is finally declared polio free, stressing that he would help drive routine immunisation rates up to 85%. "We have made progress on vaccine supply chain, but are not yet seeing the immunisation rates rise. We will implement initiatives for tangible impact," he pledged.
Other policy directions of the agency, according to Shuaib include strengthening; governance and accountability; credibility, accountability; and reliable partnership.