Volleyball African Tourney: Team Custom Intensify Preparations
…Team Pledges Podium Finish
Joel Ajayi
As the 2019 women's African Volleyball Championship draws near, expectations are high for the Nigeria Customs Service Female Volleyball team, the sole representatives to perform well at the tournament in Cairo, Egypt from 14th to 26th March 2019.
All the players invited to the camp since the beginning of February are working hard to ensure the team performs well when the tournament will eventually kick off next month.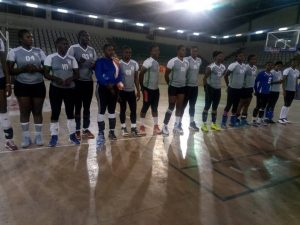 When The Gleamer News visited the team when they defeated one of the strong male team 3-1 in one of their friendly games inside the Abuja national stadium basketball indoor hall package B.
Shortly after the games the team's Physical Trainer Rev. Dr Raymond assured the team readiness and pledge not to leave no stone unturned to ensure the team make Nigeria proud in Egypt.
According to him, we confident about the team ahead of the games because the management of the Nigerian Custom has motivated the team in all capacity.
"The strengths and the team fitness are not in doubt they are in their best form at the moment so the Nigeria Custom team is not a team to joke with."
On his own, NCS head coach, Sunday Akapson, also pledged podium finish:
'We are not taking any chances; we want to make use of every minute and hour to prepare so that we can get to our peak.
"I assure Nigeria that we are not just going to Egypt to participate but to be among the three teams because there is a place for work, so we are not relenting we are working hard and we still believed in God.
When asked if they know their foes, Coach Akapson replied: "We know our foes very well because I have to be in Africa volleyball for 20 years now both the male and the female teams.  The last edition we finished in 8 positions.
"This year's edition, there will be eight groups and the top eight clubs will top each group which Nigeria is among top team so, that gives us an edged to top the group and play a weaker team in the quarterfinals.
Speaking also, captain of the team, Agara Priscilla, expressed optimism of winning the trophy: "we are preparing hard to exceed our first outing last year to play in the semifinals and possibly in the finals because at the semifinals anything can happen.
"With the training and another tactical approach we are getting now which is better than that of last year, I believe that this year's results will be better than last year. Any team that exceeds quarter-final should be able to play in the final and that is our target."