Amaechi, Aregbesola, Akume, others make Buhari's ministerial list President Muhammadu Buhari has finally forwarded the list of ministerial nominees to Senate for confirmation. There are 43 nominees by the President. On the list announced by Senate President...
Anenih calls for entrenchment of women's rights into various institutions The Former Minister of Women Affairs, Mrs Josephine Anenih has called on the education sector, security organisations, media, lawmakers, among others to begin to entrench...
Members of the Islamic Movement of Nigeria have again dared government as they clashed with the police at the Federal Secretariat. The police fired gunshots and tear gas to disperse the protesters. The clash sparked panic...
In a move to save face and possibly their jobs, the Nigeria Football Federation (NFF) has called an emergency congress on the sidelines of the Aiteo Cup Final in Kaduna to pass a vote...
The Samuel Oguche Basketball Foundation has announced it will host a basketball camp in Abuja this summer to celebrate its 4th year anniversary. The camp will dunk off on 22nd to 26th July 2019 at...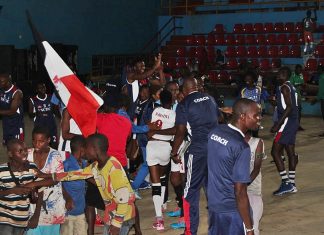 Volleyball: Customs, NSCDC tops table at the Nigeria Premier League Nigeria Customs Service men's volleyball team and Nigeria Security Civil Defense Corps (NSCDC) women's volleyball team finished first at the just concluded first phase of...
MAUSTECH Scrap: NAOSS picks July 27th for Emergency Congress The National Association of Ogun State Students (NAOSS) says the association will on Friday, July 27, convey an emergency Congress on the proposed scrap of the...
NCWS call on FG to take adequate measures to address diaspora killings of Nigerians The National Council of Women Societies (NCWS) has called on President Muhammedu Buhari, to take adequate steps to address the...
APC urged Paikoro LGA resident to come out enmass to vote for Kwanayi The Chairmanship candidate of the All Progressive Congress APC of Paikoro LGA in the forth coming Local Government elections in Niger state,Comrade...
NTIC, Ministry of Education collaborates on teacher's training Nigerian International Tulip Colleges says it will collaborate with the Federal Ministry of Education to train teachers in the country. Mr Feyzullah Bilgen, Managing Director, NTIC made this...