Joel Ajayi As community leaders, political leaders and our elected representatives, it is your duty to use your existing structures, your tentacles, within all the communities to sensitize and inform the general public of what...
Sports Minister Media Aide,Kola Daniel donates cash hand sanitizers to journalists to cushions COVID-19 Effect Joel Ajayi The minister of Youth and Sports Hon. Sunday Dare media aide ,Kola Daniel has cushioned the effect of coronavirus...
Lockdown: Youth Minister Commends Youths, Urges Them to Keep Busy Positively Joel Ajayi Minister of Youth and Sports Development Mr. Sunday Dare has again called on Nigerian youths to take advantage of opportunities available to them...
Admin. The Family Planning 2020 (FP2020) on Thursday advised Nigerian youths to make good use of the COVID-19 lockdown period by engaging in self-development activities. Its Youth Focal Point, Nigeria, Ms Bless-me Ajani, gave the advice in...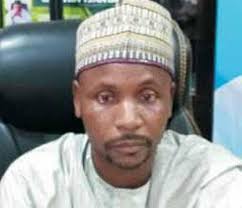 22 Suspected Coronavirus Cases Tested Negative In Kano-Commissioner for Health Fatima Ibrahim Kano State Task Force Committee on COVID-19, says 22 of the 25 suspected Coronavirus cases have tested negative to the virus while three others...
Following the shift in 2021 African Cup Of Nations qualifiers from March till October due to the outbreak of Corona virus, the Confederation of African Football ( CAF) has decided to hold discussion with...
Impacts Of COVID-19 on NFF/LMC Revenues-Dikko Joel Ajayi With all football activities suspended, the Coronavirus pandemic has affected the revenue base of both the Nigeria Football Federation(NFF) and its affiliated League Management Company (LMC). This much was...
... Dr Tijjani Aliyu to Coodinate Palliative Measures ...Defaulters to be Arrested, Presecuted Joel Ajayi In a bid to stem the spread of the Coronavirus, the Federal Capital Territory Administration will enforce the cessation of movement order...
Coronavirus: Body Of Permanent Secretaries Donates Toiletries To Nigerian Joel Ajayi The body of Permanent Secretaries of federal ministries has donated some toiletries as part of effort to assist the Federal Government in the fight against...
Joel Ajayi The Minister of the Youth and Sports Development, Mr. Sunday Dare has join concerned citizens of Oyo state and family and friends of the state Governor, Mr. Seyi Makinde to wish him a...