Dare To Do! Four Years of Sunday Dare Leading the Charge in Youth and Sports Development
Every journey a man embarks on, has a destination, which is usually the terminal point of that journey. Long journies, especially in our terrain, are rough, tough and sapping.
As Sunday Dare counts down to the end of his tenure as Nigeria's minister for Youth and Sports Development, the astute administrator has discharged his duties along this journey with vigour, dedication, guts, finesse, and unquestionable commitment, over the last four years. Dare emerged at a time when sports needed a repositioning, with public and stakeholder confidence at its lowest ebb. Not only was his job cut out, he also faced an uphill task to prove his mettle to critics and silence the dissenting voices in the crowd. There is no gain saying in a terrain such as public service, there will always be discordant voices and cacophonies of opposing views, no matter how impressive the subject of a mission appears.
With the benefit of hindsight, Dare can be said to have successfully silenced the ciritics with the transformations he led in the last four years. The ministry he looked after has always been a tricky one, as more often than not, people forget it combines both sports and youth development. These two areas, however related, are also distinct in their needs, there are not water tight compartments. Usually, the Sports arm of the ministry has always enjoyed patronage and support, while youth development arm has endured neglect.
One of Dare's cardinal principles upon assumption of office was to resuscitate, reinvigorate and reenergized a key part of the ministry, that holds significance to the future of the country. He committed himself to youth development, empowerment, addressing youth leadership gaps, boosting the creative industry and tech, and other niches where youth thrive and beam the light.
The ministry under Dare's stewardship initiated the Digital Skill Enterpreneurship Employability Leadership (DEEL), where over 320,000 young Nigerians were trained in 11 different digital skills. These included contemporary skills in robotics, Artificial Intelligence, cybersecurity, coding, etc. Dare had rightfully stated that 65% of Nigeria's population are people aged 18-35 and thus, this demography represents the strength and future of the country. Hence, fixing this population was as good as fixing the country itself.
Aside the numerous training programmes in leadership and employability, his administration also provided soft loans for MSMEs, SMEs and start ups, under th National Youth Investment Fund, with 75 billion Naira invested to
supprots start ups by youth.
For the first time in a long while, the Youth Department of the ministry became a beehive of activities that were productively geared towards providing young Nigerians with the necessary trainings and platform they needed to thrive. The minister led the review of the National Youth Policy (NYP), which was launched in 2019 and made available via pocketsize and mobile app. Nigeria hosted its first ever National Youth Conference, themed "Youth inclusiveness: Governance, Secrurity and Employment. It had over 800 delegates from the 36 states and the FCT, including over 2 million online participants.
On the flip side of the coin, it is a no brainer that sports have thrived massively under Dare's reign. With President Muhammadu Buhari declaring that sports must become a business with manifesting dividends in employment, manufacturing and investments, Dare instituted various initiatives and projects to propagate that mandate. Adopt-an-athlete initiative saw over 45 home and foreign based athletes provided funding for training, with over $500,000 invested. The result of this was manifested in Team Nigeria's unprecedented records of success at the World Youth Championships, African Youth Championships, commonwealth Games, etc.
Adopt-a-Pitch initiative has revived the Moshood Abiola National Stadium, Abuja, Daura Township Stadium, Katsina, with work ongoing at the National Stadium, Surulere, Obafemi Awolowo Stadium, Ibadan, etc.
Various initiatives such as working on the National Sports Commission Bill, Sports Hall of Fame, Talent Hunt Programme, Athlete Welfare Scheme, Student Athlete's' Scholarship have all helped sports to thrive.
Sunday Dare presented the National Sports Industry Policy to the president, with sports reclassified as a business, to drive growth in a sustainable ecosystem.
It comes with little surprise, how the country has excelled in various international championships, given the strong foundation laid for success by the minister and his team. It came with little surprise that the Federal Government approved 2.5Billion Naira for the establishment of a National High Performance Centre in Abuja, as this will further bolster sports development in the country.
As this administration gradually winds down, the big question on the lips of stakeholders is, who will fill the gigantic shoes Dare will leave behind? how will the strides and development be sustained? How do we progress and avoid retrogressing? It only takes a meticulous process of appointing someone whose head fits the cap. A tink-tank, who understands what has been done and can strategically maintain and further the good work done in the last four years. Where the pendulum swings, remains to be seen, but as for Sunday Dare, his mark will remain indelible in the history of sports.
NYG 2023: FG Charges Participants to compete Fairly In Spirit of Unity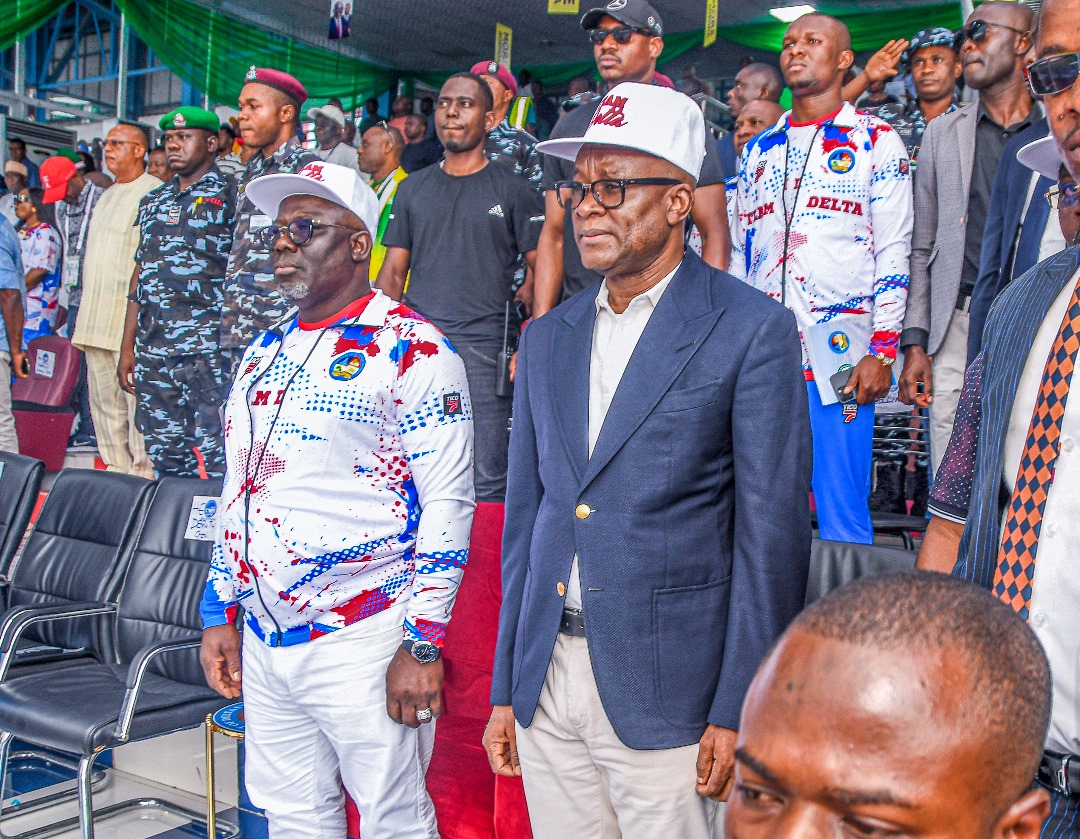 As the 2023 National Youth Games kicks off, the Federal Government has called on participants in the country to ensure they compete fairly in the spirit of Unity of the nation.

The President and Commander in Chief of the Armed Forces of the Federal Republic of Nigeria Asiwaju Bola Ahmed Tinubu gave the charge today when he declared open the 7th edition of the National Youth Games holding in Asaba, the Delta State Capital. 

The President stated that the aim of the games which was conceived in 2013 was to reposition sports at the grassroots level and to facilitate the discovery of budding talents in the country.

Represented by the Honourable Minister of Sports Development, Senator John Owan Enoh,  the President stated further that National Youth Games serves as an effective platform for talent identification and development as well as a level playing ground for young athletes to achieve excellence in sports and not necessarily to compete for the purpose of winning medals alone.

He explained that the Games was designed not only to enhance and elevate sports globally and regionally,  but also to establish a standard for athletes' succession from one generation to another and enable for athletes participation in their community development as well as reinvigorate national unity and  collaboration amongst them.

President Bola Ahmed Tinubu informed that his administration is committed to the development of sports in the country and that was why he specifically created the Ministry of Sports Development and assigned a colossus administrator,  Senator John Owan Enoh to drive its affairs, in line with the policy thrust of government.

The aim he added, is to ensure that sports move from mere recreation to job creation, thereby providing opportunities for poverty reduction amongst our youth, both male and female through government's agenda of inclusiveness thus, improving on the security of our dear nation.

The President who congratulated Delta State Government for hosting the games urged officials and athletes to compete with the spirit of fairness and togetherness, while putting the interest of the nation ahead.

He wished the athletes a fruitful competition.

Earlier in his welcome address, the Executive Governor of Delta State Rt. Hon. Sheriff Oborevwori stated that since inception, the National Youth Games  has proven to be a cost effective and reliable tool to promote national unity, advance development and  peace at both national and sub-national levels.

He observed that if this is effectively harnessed, sports has the power to positively impact on the economic and social wellbeing of any society.

Sports, he noted, *plays a great role in the realization of development and peace, in its promotion of tolerance and respect, and the contributions it makes to the empowerment of women and of young people, individuals and communities, not to mention its health, education and social inclusiveness objectives.

The Governor noted further that the belief of the Deltans on these ideals was unshakeable and that is why he.said,*the Government of Delta State has continued to make its resources available to host national and international sporting competitions

In 2018, he added, the state hosted the African Senior Athletics Championship, and in November 2022, the 21st National Sports Festival. 

Gov. Oborevwori reiterated that the Stephen Keshi Stadium has become a venue of choice for hosting national football championships, as Delta is becoming the beehive of sports in Nigeria.

He assured all participants of a peaceful and exciting games as security personnel, protocol officers, traffic management teams, and volunteers are on ground to ensure a peaceful, safe and secure environment for free and fair competition.