Samuel Okwaraji: Sports Minister Celebrates Fallen Hero, Thirty-Three Years After
The Honourable Minister of Youth and Sports Development Sunday Dare has tasked Nigerian sports men and women to emulate the fallen patriot Samuel Okwaraji who slumped to his death, exactly thirty three years ago.
Okwaraji was in action for the senior men's national soccer team, the Green Eagles, as they were called then, in a 1990 World Cup qualifying game against Angola inside the National Stadium, Surulere, Lagos when he slumped and died.
The Sports Minister says, "Okwaraji's commitment to Nigeria and sacrifice anytime he was on the pitch in our green and white is a lesson on patriotism.
"We will always remember him for his zeal and service to Nigeria and sadly the way he died defending our national colours.
"This is a challenge to everyone of us, administrators and active sports men and women to always put this nation first in all we do," the Minister said
As a way of appreciating Samuel Okwaraji, the Federal Ministry of Youth and Sports Development placed his mother, Lady Janet Okwaraji on a monthly support stipend until she passed on in 2020.
FG to Diversify Sports For More Youth Empowerment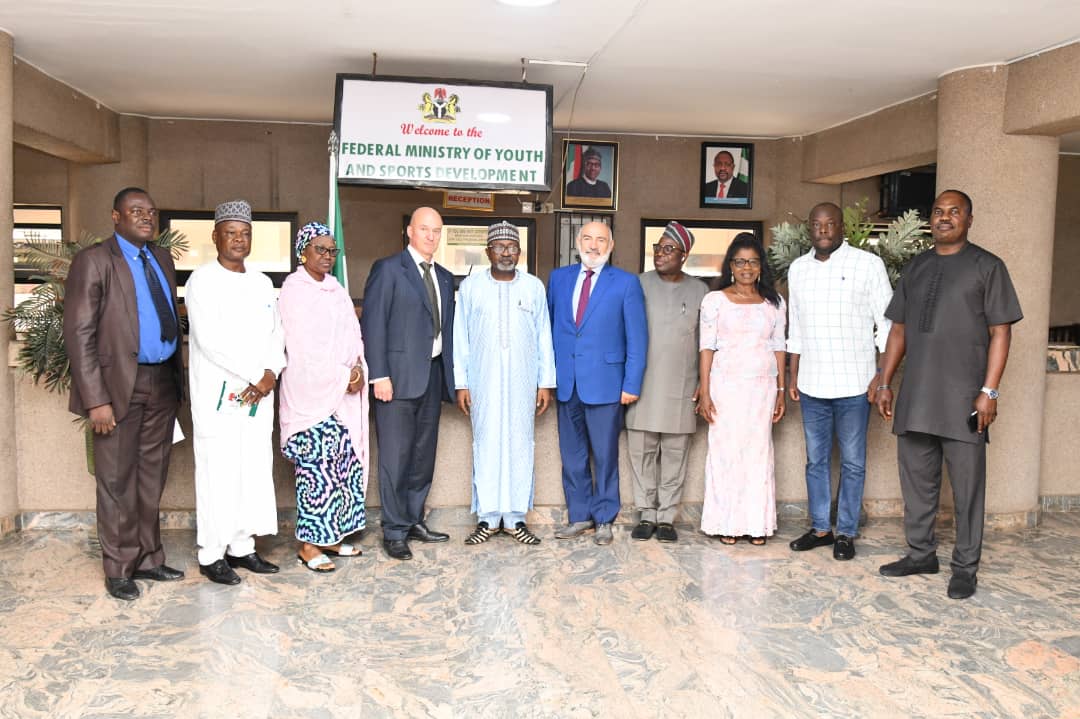 The Federal Government has assured that it will explore all possible avenues for more youth participation in sports with a view to  empowering them to become self employed and self reliant so as to contribute to the socio-economic development of the country.

The Honourable Minister of Youth and Sports Development, Mr. Sunday Dare gave the assurance  on Friday in his Office in Abuja when he received the Executive Director of Hand – To – Hand Sports Federation of Moscow.

Represented by the Permanent Secretary, Alhaji Ismaila Abubakar, the Minister stated that "this was in line with the present Administration's policy thrust which is geared towards making the teeming Nigerian youth entrepreneurial, self-reliant and employable".

According to him, "the Ministry will put up workable modalities that will make Nigeria not to only key into the Hand – To – Hand Mashal Sports but to also open up more doors for our youth involvement in the various fields of sports world wide".

He therefore urged the youth in the country to keep themselves abreast with the various policies, programmes and initiatives of the present administration so as to take advantage of every available opportunity to better their lives.

Earlier, the Chief Executive Administrator, Hand – To – Hand Sports, Moscow, Mr. Sorgai Poroshin stated that he was in the Ministry to introduce the game to the country.

According to him, the Sports which had been in existence for the past sixteen years has a thirty- eight-country membership, including Ghana, hence the need for Nigeria to see the possibility of keying into it especially  as it is the giant of Africa. 

He noted that Nigeria's acceptance of the game will further open a new horizon for the country's youth to make their mark in the Committee of Sporting World.