Turf Arena Holds Second Edition 11-Aside Mini League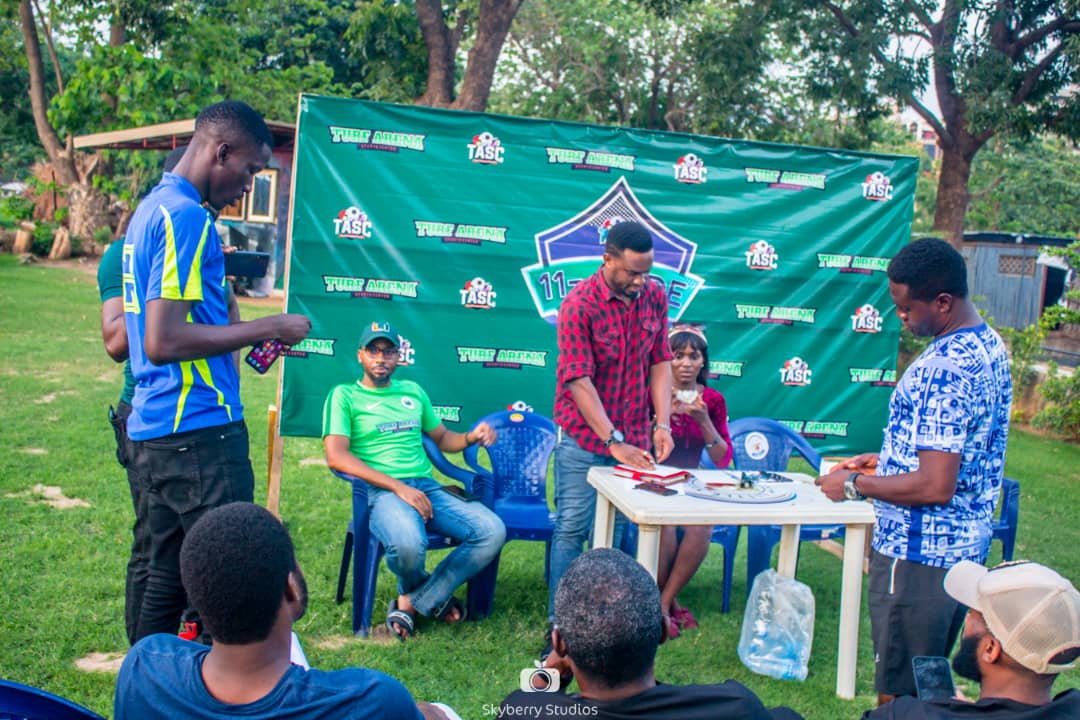 …invites scouts from Portugal and Czech Republic
…conducts Draws for the league
The second edition of Turf Arena Sports Centre 11-aside mini league will kick off on the 14th of May 2022 in Abuja
This was revealed by the Chief Operating Officer, CEO of Turf Arena, Mohammed Kamal-Deen who spoke at the draws venue in Abuja
Mohammed Kamal-Deen, said the essence of organising the league is to create an enabling environment for young players to thrive,considering we have one of the best sports facilities in Abuja and it is pertinent that we put it into use which is why we are organising the second edition of the league
' we have of one the best sports facilities in Abuja and football is our passion, so we think organising the second edition is important. We have made many new additions to this year's edition,the award for best goalkeeper,MVP and we are also working behind the scene to see the possibility of taking the MVP of this year's edition abroad for trials'.
but not that alone ,we are also inviting scouts from Portugal and Czech republic to come around and see some young talents, hopefully one or two players can be picked,also we are working with a small media team that will ensure that we have videos of the matches on YouTube , Instagram and twitter so that more players can be spotted and clubs can also use videos of their matches to promote their players'
he went further by saying 'many players that participated in the maiden edition have gone on to greater things with some of them signing for clubs in the premier league and even moving abroad'.
This year's edition of TASC mini league will see 12 teams participating in group A we have Olympic Hybrid FC, DCC -27,Camplex FC,Virtual FC,Paul E-FC,Turf Arena FC,
while group B we have Pride FC,Transfer Sports, defending champions Jubril FC,HB Academy,Garden City Panthers and Konsole Sports Football.
FIBA, Kida Threatens Nigeria with Basketball Ban

… wants to force Nigeria into participation
World basketball body, FIBA has issued Nigeria an ultimatum to suspend its International withdrawal or risk getting additional years of wilderness.
Engr. Musa Kida is in the circle of events as a recipient, as the country sits out of international basketball as put out by the Federal Government of Nigeria.
The Government had called for Nigeria's withdrawal as a result of in-fightings amongst stakeholders, lack of a functional league and a stall in the growth of the game at home. It said this measure will allow the country take a deep breathe, reconcile grey areas, re-strategize and get better as a basketball nation, instead of the cosmetic outward appearance of beauty but inner state of rancour and disunity.
In reaction, sources postulated "Nigeria is a sovereign nation and will not be blackmailed carelessly. Nigeria bigger than kidda and his cohorts".
"Moreso, it's understood that FIBA allegedly wrote Kida alone. The body has not written the Federal Government.
The Ministry has received no communication to that effect. Kida is not the Federal Government of Nigeria.