Turf Arena Holds Second Edition 11-Aside Mini League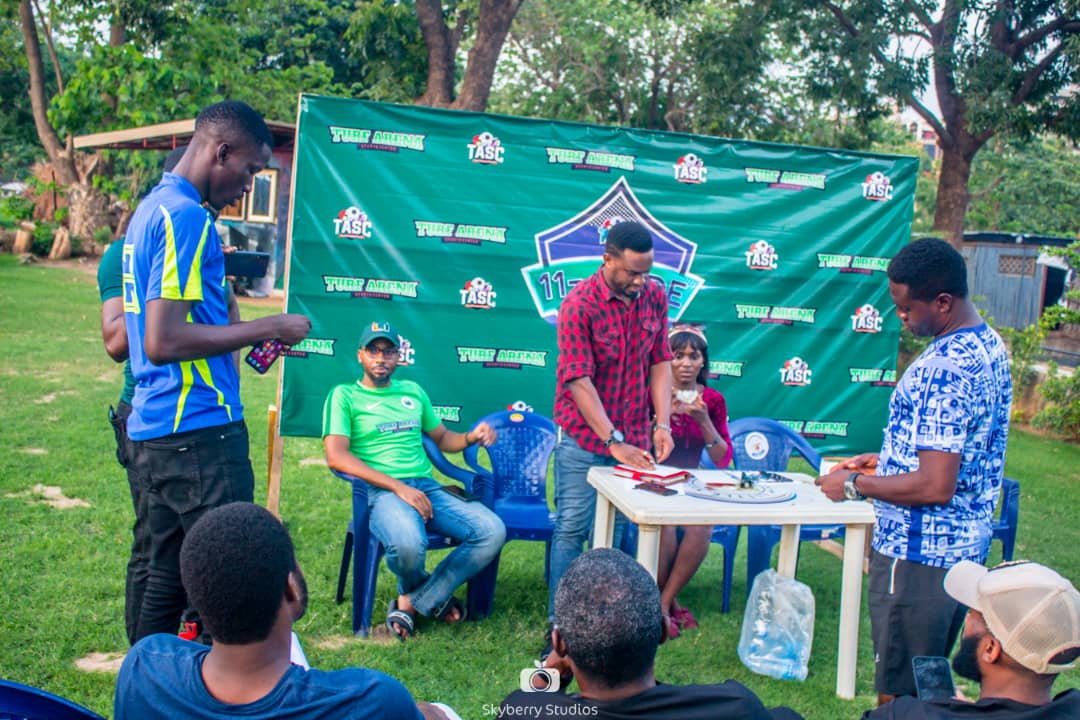 …invites scouts from Portugal and Czech Republic
…conducts Draws for the league
The second edition of Turf Arena Sports Centre 11-aside mini league will kick off on the 14th of May 2022 in Abuja
This was revealed by the Chief Operating Officer, CEO of Turf Arena, Mohammed Kamal-Deen who spoke at the draws venue in Abuja
Mohammed Kamal-Deen, said the essence of organising the league is to create an enabling environment for young players to thrive,considering we have one of the best sports facilities in Abuja and it is pertinent that we put it into use which is why we are organising the second edition of the league
' we have of one the best sports facilities in Abuja and football is our passion, so we think organising the second edition is important. We have made many new additions to this year's edition,the award for best goalkeeper,MVP and we are also working behind the scene to see the possibility of taking the MVP of this year's edition abroad for trials'.
but not that alone ,we are also inviting scouts from Portugal and Czech republic to come around and see some young talents, hopefully one or two players can be picked,also we are working with a small media team that will ensure that we have videos of the matches on YouTube , Instagram and twitter so that more players can be spotted and clubs can also use videos of their matches to promote their players'
he went further by saying 'many players that participated in the maiden edition have gone on to greater things with some of them signing for clubs in the premier league and even moving abroad'.
This year's edition of TASC mini league will see 12 teams participating in group A we have Olympic Hybrid FC, DCC -27,Camplex FC,Virtual FC,Paul E-FC,Turf Arena FC,
while group B we have Pride FC,Transfer Sports, defending champions Jubril FC,HB Academy,Garden City Panthers and Konsole Sports Football.
Mavlon FC arrives Europe on 21 days training tour
The management of Mavlon FC have taken another giant stride in the development of her players by embarking on a training tour in Europe.
The team led by the chief coach, Muyiwa Showole, comprised of players and other officials, arrived Bulgaria on a training tour of 21 days that will see Mavlon FC play friendly games with some clubs in the Eastern European country.
In May, Mavlon FC were guests of Golden Eaglets at the FIFA goal project, Moshood Abiola Stadium, Abuja when they engaged the National U 17 team of Nigeria in a friendly game, which witnessed sublime football artistries from both sides all through 90 minutes.
The team displayed strong football qualities despite losing 1-0 to the Eaglets.
24 hours later, Mavlon FC were too formidable for Tiki Taka academy, beating the team at their home ground in Abuja 1-0 in another friendly game played in Abuja Al geared into putting the team is great shape ahead of the training in Bulgaria, Europe.
It is also interesting to note that Mavlon FC has Stephen Emmanuel, one of the players of the victorious Golden Eaglets team that won the WAFU B U17 tournament last Friday, making the training tour of the team.
Below are the friendly games lined up for the team in Bulgaria
01.07. 2022.
Mavlon FC vs FC Montana.
Match Time: 5pm.
Venue: Evima Football Field, Bansko, Bulgaria.
02.07.2022.
Mavlon FC vs FC Makedonija G.P.(NMacedonia).
Match Time: 5pm.
Venue: Evima Football Field, Bansko, Bulgaria.
03.07.2022.
Mavlon FC vs FC Levski-Krumovgrad. Match Time: 5pm.
Venue: Evima Football Field, Bansko, Bulgaria.
10.07.2022.
Mavlon FC vs Levski-Karlovo.
Game Time: 10:30am
Venue: Evima Football Field, Bansko, Bulgaria.
www.totorinews.com