100 Shooters Rumbles At The Late Coach Ojo Shooting Championship In Abuja
By Joel Ajayi
Over 100 shooters and 8 agencies including DSS, EFCC, Correctional Service, Road Safety, Navy, Nigerian Army, NSCDC and Air force are currently participating at the ongoing Late Coach Ojo put in place by the Shooting Federation of Nigeria NFS.
The Athletes are competing in Pistol 10-meter range and Air-Rifle 10 meter range as well as double and team events.
Speaking on Wednesday in Abuja inside the shooting range Moshood Abiola National stadium Package B president of the Federation Navy Captain Bamidele Olatunji Ayoade revealed that the dream of Federation is to ensure Nigeria is represented at Olympic level.
According to him, the National championship is to honour late Ojo, during his tenure as national coach he brought up a lot of Athletes that saw Nigeria through to Commonwealth games and many others international competition.
"He was very well accepted and respected by the shooting family so in order to eulogies his achievement as national coach this championship is put in place
"His major dream was to see Nigeria at the Olympics for shooting, so for us in the shooting family, our dream is to see Nigeria get to the Olympics and because we are preparing for the world national championship which requires minimum qualifications for the event.
"We are using this championship to select shooters that will represent Nigeria. We have 100 shooters from state federations and also have 8 different agency institutions
"There are two main categories; they are competing pistol 10 meter range and Air Rifle 10 meter range in male female categories and for each event we will select 2 people each to represent Nigeria. Also, there will be a double and team event."
However, Navy Captain Ayoade revealed that at the end of the event prize to be determined by board will be given to the winners in different categories.
FG to Diversify Sports For More Youth Empowerment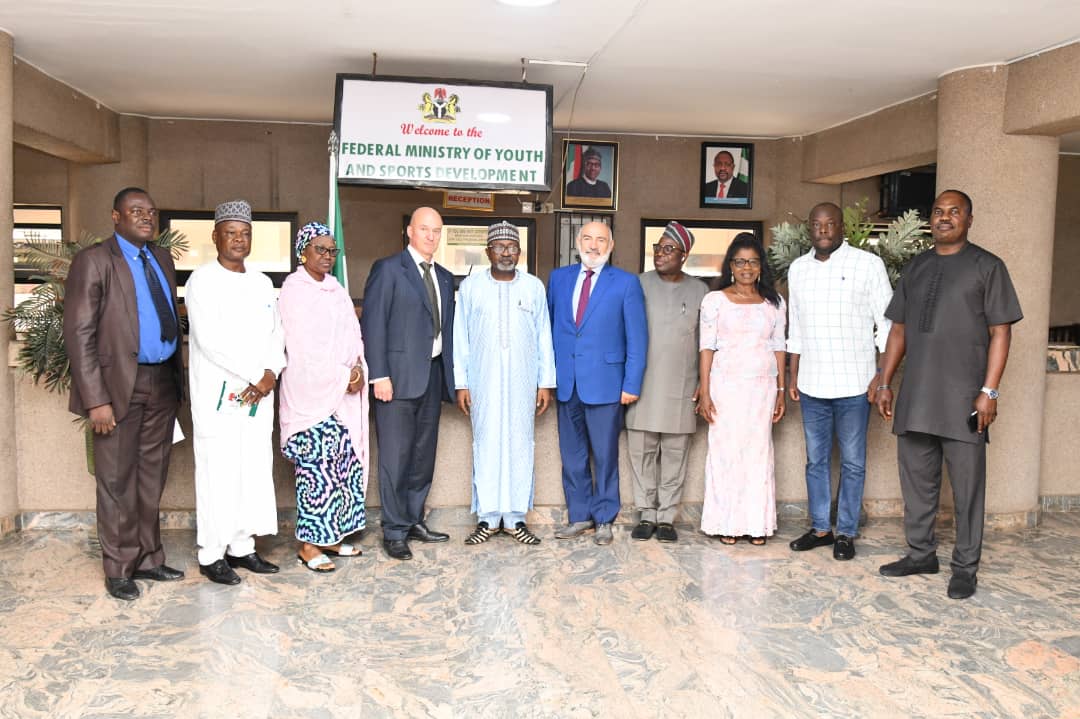 The Federal Government has assured that it will explore all possible avenues for more youth participation in sports with a view to  empowering them to become self employed and self reliant so as to contribute to the socio-economic development of the country.

The Honourable Minister of Youth and Sports Development, Mr. Sunday Dare gave the assurance  on Friday in his Office in Abuja when he received the Executive Director of Hand – To – Hand Sports Federation of Moscow.

Represented by the Permanent Secretary, Alhaji Ismaila Abubakar, the Minister stated that "this was in line with the present Administration's policy thrust which is geared towards making the teeming Nigerian youth entrepreneurial, self-reliant and employable".

According to him, "the Ministry will put up workable modalities that will make Nigeria not to only key into the Hand – To – Hand Mashal Sports but to also open up more doors for our youth involvement in the various fields of sports world wide".

He therefore urged the youth in the country to keep themselves abreast with the various policies, programmes and initiatives of the present administration so as to take advantage of every available opportunity to better their lives.

Earlier, the Chief Executive Administrator, Hand – To – Hand Sports, Moscow, Mr. Sorgai Poroshin stated that he was in the Ministry to introduce the game to the country.

According to him, the Sports which had been in existence for the past sixteen years has a thirty- eight-country membership, including Ghana, hence the need for Nigeria to see the possibility of keying into it especially  as it is the giant of Africa. 

He noted that Nigeria's acceptance of the game will further open a new horizon for the country's youth to make their mark in the Committee of Sporting World.