A real Stakeholder has landed! All Hail Abba Mukhtar, the man with the midas touch
Many have declared before him but his declaration has left tongues wagging. His coming has given this whole contest a fresh dimension
In the last few weeks or so, names emerged from the blues as stakeholders staked their money for the ultimate prize. Names cropped up from the north, south, east and west leaving many with the option of permutations and calculations.
Reason is that, some felt that the time has come for the new order. They say, if Amaju must go, all those his kingpins that conspired with him to leave our football in this present mess, have to go with him.
They say, if for eight years, these men failed woefully to right the many wrongs in Nigeria football,, they stand no chance to get it right if given the chance to try.
We have in this group of unlookers, a man who skillfully wants to play nice. For eight years, he surrendered to loyalty and never for once did he stand up to look his boss at the face. Is that the leader we want to have? The answer is no!
Then there is another who flourishes in the glamor and razzmatazz of international appointments at the expense of his original assignment. He is loved by many but has overstretched the handshake. Today, those who love him have joined the opposition to fight him. That's the unfortunate reality of the moment but it has to do with hia ungodly loyalty and attachment to a man who for eight years as NFF president spent more time before the mirror, admiring himself and his personal achievements at the expense of our National pride and goal.
You might want to exonerate others who claim that there is little or nothing they could do to steady the ship. However, if the head is bad, the body is useless.
Now step forward Alhaji Abba Mukhtar, a man whose tenure as FCT FA chairman has brought new lease of life to a state struggling to live up to it's status as the home of Nigeria football.
Mukhtar has changed the narratives, he has employed men and women with capacity and class and has given them authority to work. The secretariat stands out as one, if not the best in the land, the FCT grassroot policy stands out as the very best in Nigeria today and added to that, we have a selfless leader who is determined to return Nigeria football to it's rightful place on the global map.
In outlining his plans for Nigeria football, Mukhtar didn't mince words. He has identified his priorities and has promised to stay loyal to them.
Among these priorities is creating an enabling environment for Nigeria football to thrive, putting in place a functional and working secretariat, relaunching Nigeria football as one of the Super powers of Africa and World football, investing in age grade national teams and returning to the grassroot, the home of talent.
For those who don't know this man, let me educate you a little.
Abba Mukhtar Mohammed is a successful businessman and politician who was elected FCT FA Chairman three years ago after he had served the FA as Second Vice Chairman. Mohammed majored in Accounting and Economics at the Middlesex University in the United Kingdom and has a deep passion for the round leader game.
His passion is football. Infact, he eats and drinks football. No wonder, most Nigerian footballers, especially those that grew up in the north identify with him.
For him, the footballers come first. He doesn't collect money from footballers, he gives them money if and when they ask. He is focused, young and enterprising, he is an ambitious goal getter, one with an eye for results.
Two days after announcing his intention to contest for the NFF presidential seat, the game changer has had to battle with negative and positive vibes but he is resolute and determined, ready to see this to the very end.
NYG 2023: FG Charges Participants to compete Fairly In Spirit of Unity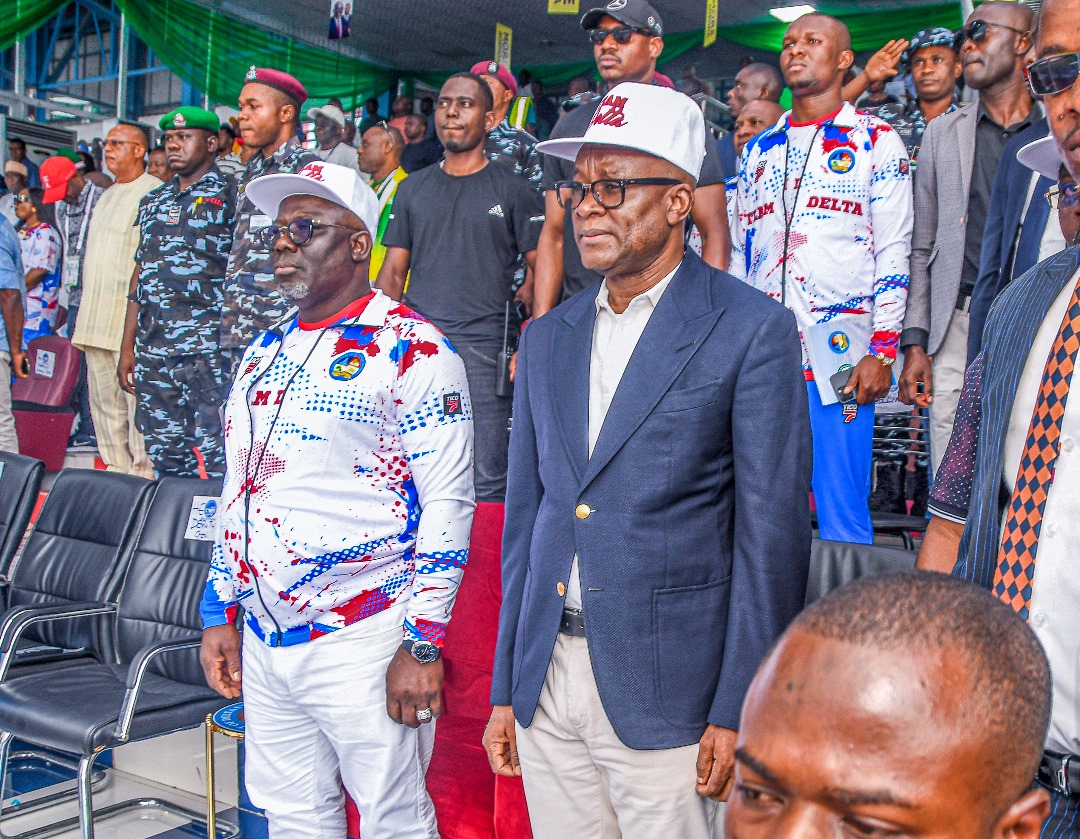 As the 2023 National Youth Games kicks off, the Federal Government has called on participants in the country to ensure they compete fairly in the spirit of Unity of the nation.

The President and Commander in Chief of the Armed Forces of the Federal Republic of Nigeria Asiwaju Bola Ahmed Tinubu gave the charge today when he declared open the 7th edition of the National Youth Games holding in Asaba, the Delta State Capital. 

The President stated that the aim of the games which was conceived in 2013 was to reposition sports at the grassroots level and to facilitate the discovery of budding talents in the country.

Represented by the Honourable Minister of Sports Development, Senator John Owan Enoh,  the President stated further that National Youth Games serves as an effective platform for talent identification and development as well as a level playing ground for young athletes to achieve excellence in sports and not necessarily to compete for the purpose of winning medals alone.

He explained that the Games was designed not only to enhance and elevate sports globally and regionally,  but also to establish a standard for athletes' succession from one generation to another and enable for athletes participation in their community development as well as reinvigorate national unity and  collaboration amongst them.

President Bola Ahmed Tinubu informed that his administration is committed to the development of sports in the country and that was why he specifically created the Ministry of Sports Development and assigned a colossus administrator,  Senator John Owan Enoh to drive its affairs, in line with the policy thrust of government.

The aim he added, is to ensure that sports move from mere recreation to job creation, thereby providing opportunities for poverty reduction amongst our youth, both male and female through government's agenda of inclusiveness thus, improving on the security of our dear nation.

The President who congratulated Delta State Government for hosting the games urged officials and athletes to compete with the spirit of fairness and togetherness, while putting the interest of the nation ahead.

He wished the athletes a fruitful competition.

Earlier in his welcome address, the Executive Governor of Delta State Rt. Hon. Sheriff Oborevwori stated that since inception, the National Youth Games  has proven to be a cost effective and reliable tool to promote national unity, advance development and  peace at both national and sub-national levels.

He observed that if this is effectively harnessed, sports has the power to positively impact on the economic and social wellbeing of any society.

Sports, he noted, *plays a great role in the realization of development and peace, in its promotion of tolerance and respect, and the contributions it makes to the empowerment of women and of young people, individuals and communities, not to mention its health, education and social inclusiveness objectives.

The Governor noted further that the belief of the Deltans on these ideals was unshakeable and that is why he.said,*the Government of Delta State has continued to make its resources available to host national and international sporting competitions

In 2018, he added, the state hosted the African Senior Athletics Championship, and in November 2022, the 21st National Sports Festival. 

Gov. Oborevwori reiterated that the Stephen Keshi Stadium has become a venue of choice for hosting national football championships, as Delta is becoming the beehive of sports in Nigeria.

He assured all participants of a peaceful and exciting games as security personnel, protocol officers, traffic management teams, and volunteers are on ground to ensure a peaceful, safe and secure environment for free and fair competition.