2019 FCT FA League: Apostolic FC Beat Great Otisco FC 3-1
Apostolic football club of Abuja defeated their counterpart Great Otisco FC 3-0 at the ongoing 2019 FCT FA League match-day 15 inside the Area 3 Pitch Abuja.
Dennis Idakwo put Apostolic FC in the driving seat in the 22nd minute of the encounter, while Basir Musa scored a brace to extend the lead to 3 goals to nothing in the 39th and 56th minute respectively.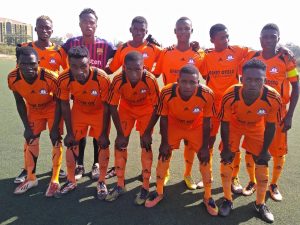 Though it was too late for Great Otisco FC who scored a consolation goal in the 87th minutes of the game courtesy of Joshia Jeremiah to make the scoreline 3-1
However, the 2019 FCT FA League Monday match will witness the other three matches as three groups slug it out for the top of the top encounters.
Four Group D teams will be in action as Goodland FC slug it out with SUN FC at noon while Josh FC entertain Great Rising at 2:00 pm at the Area 3 Sports Complex, Abuja
FC Liberty will lock horns with WACO Football Academy in today's last match at 4 pm.
Full fixtures and Time
Goodland FC Vs SUN FC Time: 12 noon
Josh FC Vs Great Rising FC
Time: 2pm
FC Liberty Vs WACO FA
Time: 4:00 pm