Despite Anxiety, I dream to Achieve and to Inspire – Anyanacho
African Bronze medalist, Elizabeth Anyanacho, has been one of the best female talents to emerge in recent years on the Nigeria Taekwondo circuit. The number one seed has picked up an impressive SEVEN GOLD Medals, One Silver and One Bronze in the past Nine National Tournaments dating back to 2017 and has been undefeated since December 2017.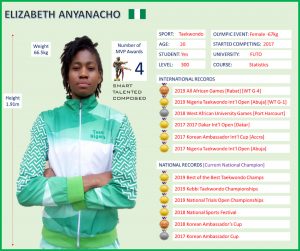 In 2019, the 20-year-old has a stellar year after she won three national gold medals and two international medals – a gold at the World Taekwondo [WT] G-1 ranked Nigeria Taekwondo International Open and a Bronze at the WT G-4 ranked 12th All African Games, efforts which saw the talented competitors break into the world's top 100 competitors with a current world ranking of 86.
The gangly 6 ft 2" tall youth, who is a student of the Federal University of Technology Owerri has surprised many with her natural physical abilities and development.
In this interview, the soft-spoken African Bronze Medalist speaks of her Taekwondo journey, the impact of the last All African Games on her FUTO experience and her projections for the future.
Winning a major international medal at the last all African games made you an overnight celebrity in FUTO. How are you coping with this development?
By nature, I always keep a low profile, so I do not really think it was that publicized in school. I keep my head down and ensure I do not attract too much attention so I can cope with my studies and training, which is very hectic. I do not think I am famous. I am just happy I won an international medal for my country and it reflected positively on my university, who have been very supportive.
Quite a few countries indicated interest for you to come & train with their teams. But you passed up on some of these opportunities because of your school schedule. What informed your decision?
My school schedule is very tight, and it is so hectic being a student-athlete. I do not want to lose so much school time that I would have an extra year, and this is why I could not accept some of these invitations as it clashed with important academic periods. But I would really love to have more international training experiences so I could learn more from other teams and people. Hopefully, when I am done in two years, I can have more international training camping experiences.
How important is education to you?
Completing my education is important because an athlete will retire someday and it is this kind of investment in education today that will make it easier in the future as it will increase the opportunities available to one.
How are you combining the rigors of university education with elite sports training?
It is all about time-management and discipline. It is very difficult especially as there are limited resources. I hope to secure sponsors as a deal will me strive to achieve in both areas while being a good ambassador. Sometimes, when it gets too difficult, I just commit everything to God Almighty, and the truth is that it is always so difficult, so I am always putting everything into the hands of God. I will keep training hard and I will leave it to my coaches and managers to find and work out a sponsorship deal for me.
After the 12th All African Games, you missed out on the Korean Ambassador's Cup, then went on to snatch Gold medals at the Kebbi Open and Best of the Best? Can you reflect on this?
I apologize that I missed the Korean Ambassador Cup. I really want to come and compete, but it was happening at the same time as my examinations, so I had to stay back and write about my exams. Balancing school and a sports career require a compromise on so many occasions. This was one of those kinds of decisions. But for the Korean Ambassador Cup, I was happy when I saw that my Team CCSF teammate, Bukola Ogunnusi, went there and won a gold in my category. It was as if she won for me and for all of us. I am also happy I went to Kebbi Open. There were not a lot of competitors in my category, but I enjoyed my podium experiences.
At the Best of the Best, I trained hard for it because I wanted to end the year strongly. Training at our training camp was so difficult, both physically and mentally. I am glad the training paid off. My opponents were tough and even though I won the gold, I took home learning points to work on, once my training begins in 2020.
How did you start Taekwondo?
I was 15 when I started athletics and a few weeks after I started athletics, I met Mr. Uche and Chika Chukwumerije at the stadium. My coach, Sam, did not come to training so he asked my mentor, Chika Chukwumerije to allow me to join his training session. He had a project with training students at Government Secondary Schools, and my school in Lugbe was among them. So he agreed. I did the sessions. It was plyometrics and a lot of drills I have never seen, and I really enjoyed it. From there, I started coming for training and I was combining athletics and Taekwondo. I started competing in grassroots taekwondo events in FCT, I did three in 2016 and two in 2017, and I won all five and I was delighted because I was just a white – yellow belter. In 2017, Mr. Chika to my first internationals. I was worried because I had not even done any national before, but he believed a lot in my talent. I ended up winning gold medals in Ghana and Senegal and the MVP trophies. Then came the Nationals – I won the National Sports Festival, National Trials, Best of the Best and other high profile events. So my journey has been really intense training sessions and competitions and outside of competitions, we do a lot of computer training and event management. I am grateful for my journey so far and dream of achieving a lot more.
Many athletes dream of going to the Tokyo 2020 Olympics. What would it mean to you?
Of course, it would mean a lot if I can get the opportunity to get the Olympic ticket. I am in good form and have developed so much over the past three years. It would be my first time, but this is the dream of every athlete – to be on the highest ever stage and to win a medal. I know it will be difficult and this is why I keep working so hard so as to make this dream a reality.
What do you expect from the World Taekwondo Coach Certification Course as your last taekwondo activity in 2020?
"The course has helped me to familiarize myself with the WT rules and it has also helped me understand my rights as an athlete. From a coaching perspective, it will help me see what an athlete usually misses and this will help me very much as an athlete to understand better a coach's instruction during a training session or a competition.
How have you been spending your Holidays?
With my family in Abuja. I did not travel because I did not want to spend all my energy during the festivities. I have been enjoying my rest time from training, enjoy spending quality time with my parents and siblings, and I have started re-booting for the new year. Also, it has been a period for me to pray and reflect on the new year and commit myself and plans to God.
What is your focus in 2020?
I want to keep improving my performance in my studies and in the competition arena. I am so anxious about this because I want to do well and succeed, and I know hard work is key to achieving this. This will help to also encourage women and young people around me. So despite my anxiety, I dream to inspire and to achieve. In 2020, I will stay focused on studying hard while simultaneously training hard for all major and minor competitive events
Niger Delta Youth Council Facilitates with Nigerians on the Occasion of World Youth Day
…reflects on the state of the nation
…calls for youth friendly policies
The Niger Delta Youth Council (NDYC), a pressure group devoted to youth empowerment and development in the Niger Delta has facilitated with the federal government and Nigerian youths as the world marks International Youth Day, a day set aside to celebrate youths all over the world and reflect on the challenges they face and ways to surmount them.
In a press release made available to journalists in Abuja by the National Coordinator, Engr. Jator Abido, the group expressed optimism that this year's World Youth Day will avail Nigerian youths and government and avenue to brainstorm and find lasting solutions bedeviling the Nigerian youth especially in the area of unemployment and perennial insecurity that has hindered economic activities in many parts of the country.
"Today is an important date sets aside to celebrate International Youth Day. The importance of this annual celebration according to the United Nation (UN) is to among other things raise voices against any injustice or discrimination and deprivation around the globe against the youth. We as a pressure group want to use this opportunity to call attention to the alarming rate of unemployment which has risen to 35% in the third quarter of 2022 as well as insecurity which has brought to a halt economic activities in most parts of the country. It is our hope that government will act fast to end insecurity and reverse the ugly trend of unemployment in the country", the statement noted.
The lingering strike by the Academic Staff Union of Universities (ASUU), the group noted has far reaching implications on the future of Nigerian youths and if nothing is done about it, will endanger the mental and social capacity of youth, predisposing them to social crimes and agents of destabilization in the forth coming general elections
"The implication of this unwarranted strike is that for the past six months and counting, Nigerian youths have been idling away at home and the federal government has not considered the damage such failures portend. Not just that future leaders of Nigeria are idle but an idle mind is the devil's workshop. Criminal elements within the ruling class will quickly recruit and turn them to agents of destruction and crime as the 2023 general elections draw near. This must not be allowed to happen. The federal government must act fast to reverse this ticking time bomb from exploding" the statement urged.
The CSO equally charged the federal government to come out with policies that will encourage the participation of Nigerian youths in the downstream oil sector especially by actively using local artisans in line with local content policy of the federal government insisting that Nigerian youths especially those in the Niger Delta region have what it takes to actively transform the oil sector and end the sad phenomenon of exporting crude and importing refined products which is almost crumbling the economy.
"We are once again calling on the federal government on this occasion of International Youth Day to as a matter of national importance formulate policies which will make the local content law a more practical reality. Our youths are well skilled in oil exploration and even refining. Granting licenses to local artisans and modifying their technology will end the uneconomical policy of importing refined petroleum products at exorbitant rates at the expense of the naira. Such steps will also put an end to youth restiveness in the country and stimulate economic growth", the statement added.
On the need to inaugurate the Niger Delta Development Commission's (NDDC) Board, the CSO noted, it is long overdue and the federal government must use this occasion of the International Youth Day to respond to the yearnings of youths in the Niger Delta who are the first beneficiaries and sufferers of both good and bad policy choices in the region, arguing that, NDDC can not continue to run without a substantive Board.
"Mr. President Sir, we are calling on you to use your good office and cause the inauguration of the NDDC Board which was duly constituted but has since not being inaugurated because of the activities of saboteurs. This is not only unconstitutional but a slap on the faces of law abiding Niger Deltans who are looking forward to development massive in the region. Without a Board, corruption is rife in the Commission and the people who are supposed to be served are suffering because of the greed of a few politicians. If nothing is done to bring an end to this impunity, we'll have no choice but to take up arms and fight for our rights", the statement concluded.