Fake Orphanages: FCTA Evacuates 19 Children From Famouskids Home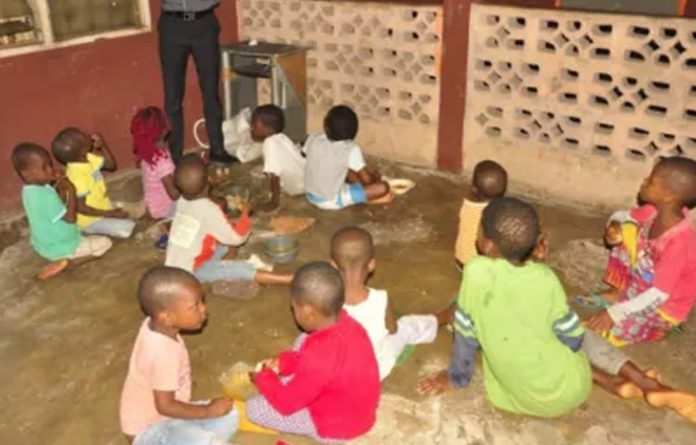 The Federal Capital Territory Administration (FCTA) has begun the clampdown on illegal orphanages being operated in the nation's capital territory to ensure sanity.
The Acting Secretary, Social Development Secretariat (SDS), Hajia Safiya Umar, on Friday evacuated 19 children from Famouskids Orphanage Home, in Tungan Maje area of Zuba, Gwagwalada Area Council, Abuja over alleged negligence and other nefarious acts.
Accompanied by the joint team of security personnel they stormed and sealed off the premises of the orphanage, which also runs a school in the area
It was gathered that the Famouskids Orphanage Home had 25 children as inmates, but only 19 of them who are between ages 4 and 17 years were met as at the time of the evaluation exercise.
According to her, the exercise would rid the nation's capital, especially the outskirts, of human trafficking and other practices that are against child right act.
"There is a lot in the Federal Capital Territory that we have to do; the abuse is becoming too much. How can somebody set up an orphanage and be selling children? The Social Development Secretariat Authority wants to know the proprietor and the person is nowhere to be found
"Our investigations show that more needs to be done in order to stop the proliferation of illegal orphanages, it appears is a very big business going on in the city which the government least expected.
"The government thought they were well-spirited people that are opening orphanages to help children without parents, as a way of helping the government in managing some social vices. Unfortunately, people have used it as a business, using the children as personal business," she said.
Mrs Umar explained that the FCT Administration will not tolerate the activities of individuals who indulge in bringing children from other states into the federal capital and using them to make money.
She said: "It has become a NAPTIP case because all the children are either from Akwa Ibom or Cross River states; this is outside their jurisdiction because there is jurisdiction of operation of orphanages.
"All children that will be kept in orphanages in Abuja must come from Abuja, anything outside Abuja is trafficking and that won't be tolerated by FCTA."
According to her, preliminary reports revealed that most of the children are brought to Abuja from Cross Rivers and Akwa Ibom states, and were left since February 2019 in the care of a 23-year-old, who claimed to be an undergraduate of the University of Abuja.
She added: "The police wrote to SDS to come and evacuate the children, meaning there are a lot of things happening in orphanages. From our investigations here, we have come to realize that there are other linkages with some other orphanages in Abuja.
"Orphanages are not meant to sell children. We gathered reliably from the police that the child might have been sold and she is in Lagos and we are now trying to track her," she explained.
"It is bothering us  that the orphanages in FCT are abusing the law, they are only supposed to keep the children only for three months and then give them out either for adoption or fostering."
On his part, one Edet Raphael, who claimed to be working with the orphanage as a volunteer, denied knowledge of the missing child from the Home.
He said: "I don't know anything about the missing child, the first time I heard I was arrested and taken to the police station and they questioned me about the child.
"I told them (the police) I don't know anything about the missing child. I remember the first girl but I have never met the missing girl."
FG woos foreign mining investors with lower production cost
Joel Ajayi
Cutting red tapes which slow business transactions and improving the security of mining operations are among fresh commitments unfolded by Nigeria's Minister of Solid Minerals Development, Dr. Oladele Alake at the Mines & Money Conference which opened in London, United Kingdom on Tuesday.
Addressing global stakeholders in the mining industry, Alake, in the 15-minute speech pitched for more investment in Nigeria listing unique advantages such as lower production cost due to surface mining and billions of dollar untapped minerals.
He quoted recent reports by audit firm KPMG which reported that mining's contribution to Nigeria's GDP rose from 0.3 percent to 0.85 percent last year, indicating 0.63 percent year on year growth.
His words: "The country's geological bounty encompasses over 44 distinct mineral types, found in exploitable quantities across more than 500 locations. Recently, recognizing the evolving global landscape and in response to emerging trends, Lithium has been included as a crucial strategic mineral of global consequence."
Dr. Alake said the administration of President Bola Tinubu has embarked on reforms to boost investment by streamlining procedures and reducing hurdles to attract foreign investors.
Showcasing recent progress in creating conditions for solid minerals development, Dr. Alake highlighted fresh data revealed by the Airborne Geophysical Survey, memorandum of understanding with German firm Geoscan to gather more data on solid minerals across the country and access to finance through a new funding facility launched by the Africa Finance Corporation and the Solid Minerals Development Fund.
The minister reminded the global mining community of the Federal Government 's policies on how mining operations must benefit the communities and lead to processing instead of wholesale export of raw minerals.
" Nigeria is currently emphasizing Solid Minerals Beneficiation and Value-Addition as a panacea for quick and sustainable growth of the Mining Industry…By adding value to our raw materials, we not only create higher value products but also generate employment opportunities for our teeming youth and increase the sector's overall profitability and contribution to the nation's GDP", he said
Dr. Alake urged investors to support socio-economic development of the communities where they mine to make mining mutually beneficial.
Citing the recent launch of the revised guidelines for Community Development Agreement which provides for social amenities, educational support, health and safety environmental facilities.