I WANT TO LIVE FOR MY FAMILY AND NEEDY – SADIQ UMAR
Umar Sadiq a Nigerian professional footballer who plays as a forward for Spanish club UD Almería, a Kaduna born lanky striker represents the Nigeria National under-23 team and won a bronze medal at the 2016 Summer Olympics in this Exclusive interview conducted by Kola Daniel published THE GLEAMER NEWS, he speaks about his hero, Education, what he use his first sign-on fees for and his readiness for Super Eagles if the opportunity comes amongst other.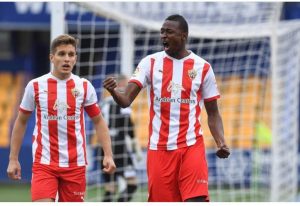 Some people actually asking, is Sadiq from Kaduna or Taraba please tell Nigerian where are from?
I was born and grown up in Kaduna.
In the Family of, how many?
I grew up in a family of 2 boys' three girls.
Where did you start from?
Yes, I started my nursery school from nursery one to SS3 in the standard foundation.
Who bought you your first boot?
My first boot, it was my late Uncle that bought it for me his name is Mohammed Nayahara.
What did you do with your first professional football sign-on fees?
My first professional sign-on fees, I send it home my Daddy use it just to fix the house and I don't know what he did with the rest.
Who is that the first Coach that taught you the basic skill in football?
He is in military work now, his name is Halilu Kusho,  I remembered during the under-13 training, even if it's raining he used to come to our house to force us to go and train, and today I thank God for where I am.
Who is that person that you are thinking of hero in football?
To be honest, in those days watching Ronaldinho of Brazil is something that pleases me. I like Garba Lawal, Daniel Amokachi, and Tijani Babaginda.
Which team you will say before you quit football you will love to play with?
You know, as a young boy we always watching English Premier League. I love Manchester United.
How do you feel playing against Manchester United in Europa cup?
It was an emotional game for me seeing me playing in old Trafford. It's something else, I can't describe the feeling.
Football Fans are clamoring for you to come to Super Eagles a lot of people reporters, fans how ready are you if opportunity beckons?
For now, Nigeria has a lot of talents but all I know is that my future is bright, but for now, I am focusing on my club, you know I have never been into super eagles after playing in the 2016 Olympic Games for I am focusing on the club before we see what would happen.
Described two things that you have a phobia for and two things that you want to live for?
I am scared of losing my mum because all I have now is my mum, my dad is gone five years ago and I lived for my mum, for my daughter and for my brother as well as helping the poor.
Government should empower Agricultural institutions to operate independently
Joseph Ali is an Agriculturist, a passionate modern day educationist, a pragmatic leader and a Social Entrepreneur, Rural Developer and the Founder of COFARMS GREENAID REVOLUTION. In this interview , he bared his mind on why government should empower institutions in the agricultural sector to operate independently .
Can you tell us about your organization?
CO-FARMS GREENAID REVOLUTION LTD is an Organic Farmers community who are producing, processing and distributing Organic end products and inputs. COFARMS is founded in 2016 as an ICT Agricultural Company, e-commerce market for agricultural commodities who operates both online (www.cofarms.org, www.cofarms.ng )/on-ground farming systems that provide a profitable platform for agricultural investment. Our model helps to reduce the number of small scale farmers in our society by training and building them into communities of farmers who pull their small resources together to commercialize Agricultural production.
Looking at your journey into agricultural businesses, can you tell us some remarkable achievements you have recorded so far?
As an organization we have recorded a lot of successes over the past five years with a lot of challenges too but the journey has been God all through. We have built over 33 organic communities across 6 states and with the support of our partners European Union, GIZ, NICOP and others we have trained and certified 13,000 organic certified farmers across 6 states, built over 180,000 farmers into organic agricultural communities who today produce uniform commodities for other company's raw materials for both local and the international market. We create the concept of the community Agriculture to eradicate isolation practice in agriculture space, reduce the number of small scale farmers by pulling their small resources to commercialized agricultural production, produce uniform commodities and access all input within their crop community with the focus of financial inclusion and modern day Agriculture using technology as a tool for gender inclusion.
We also pioneer the Nigeria Go Organic Project. The Nigerian Go Organic project is a project by COFARMS GREENAID LTD focuses on increasing Organic Agriculture participation in Nigeria through training on Organic Agriculture, organic input production and distribution, organic market inclusion and market linkage and financial inclusion for rural farmers in Nigeria. The Project drives good agricultural practices within rural farmers, celebrate the rural farmers, help farmers possess the knowledge required to convert farming to Agribusiness, start the conversion of farms and farmers to organic agriculture, provide new and improved knowledge on farming and deploy modern agro technologies/solutions to the farm to boost productivity, profitability and proficient of all agro actors within the Agricultural Value Chain and create linkages that connect all major actors to both raw materials and market. In 2021 the project expanded to Africa Go Organic with presence in Cameroon, Togo and over 16 states in Nigeria with reach to over 300,000 farmers in total.
What are you doing differently to carve an inch in the sector looking at the need for food security in the country ?
Ans. Work and let your result show other organization that is possible. When we started, getting organic certification looks impossible, with commitment we were able to get our organic certification and help other organization get their first organic certification. We believe competitiveness works better in partnership and where others see competition we see synergy. Today we have certification for different commodities yearly and produce both livestock and crops like (rice, maize, sorghum, soybeans, hibiscus, cashew, mango, cattle, goat, chicken, vegetables, beans, sesame, ginger, turmeric, coffee, groundnut, orange, potato, cassava, yam and moringa etc).
Where would you like to be in the next 5 years?
Ans. In the next 5 years by 2026 we will like to train and certify 200,000 farmers across Nigeria and Africa build a database of organic producing farmer to 1 million across Nigeria and 10 other African countries and be able to process all raw materials to finish product. The big picture is to meet the target of 1000 homes in Nigeria and other part of Africa eating our products daily, convert 25% Nigeria arable farmland to organic farmland, produce up to 42 million metric tons of organic certified food yearly and achieve market inclusion for organic foods in the local market. Gender inclusion and participation is something we are passionate about and we want to achieve 60% population of women farmers.
What would you like the Government to do more in agricultural sector to aid the growth?
Ans. Policies, infrastructures, regulations. With proper policies and internal regulation system of the commodity market, it can create new jobs for millions of youths in Nigeria. Government should empower Agricultural institutions to operate independently of the Government to provide good structure to regulate the agro sector. As of today the institutions are dependent of Government, making both the government and the institutions one and same entity. Government have failed in providing good structure making the commodity market porous, increasing inflow of dangerous agro chemicals that is destroying our farm land on a daily basic and also affecting the quality of life through the production of contaminated food with increasing health challenges.
What is your advice to the Government?
Ans. Government should start being Government by doing what Government is made to do (create policies to boost business activities and engagement, work on our infrastructure, put in place structures and regulations that help small businesses to grow and empower our institutions to operate independently of the Government) appointment and employment to Government offices should be done base on merit so as to increase capable hands to boost capacity and practical participation in the agricultural sector.