Igoche Mark Congratulates President Tinubu, Showers Econiums on Ugboaja for Bagging National Honour.
The Initiator of Mark D Ball Basketball Champion, Mr. Igoche Mark has congratulated the new president of Africa's largest democracy, Nigeria's leader, President Bola Ahmed Tinubu GCFR; as the Sports Administrator also paid glowing tributes to a former Nigerian Basketball Player, Ejike Ugboaja on his conferment of national honour, Member of the Federal Republic (MFR) by former president Mohammadu Buhari.
Mark in a congratulatory message he personally signed on Wednesday, praised President Tinubu's blueprint, which he described as a "game changer" for sports transformation in the country.
The message reads, "Dear Mr.President, I have gone through your manifesto titled "Renewed Hope 2023," your plan for sports development was weaved around training, athletes funding, sports as business and tool for national unity.This to me is highly commendable, because if properly implemented, it will be a Game Changer.The sports ecosystem has the capacity to improve the country's GDP if things are done properly; this is when the right people are in charge of running sports, unlike the present suitation.
However, it is worthy of note to state that the issue of corruption, greed and selfishness by sports administrators have crippled the sector.
While we pledge our support to be a partner in progress, we pray for wisdom to achieve all set goals." Mark's message reads.
The basketball philanthropist was full of praise for his former player at Mark Mentors, Ejike Ugboaja MFR for receiving a national according to Mark, "You have become a standard for every aspiring domestic basketball player who desires to play at the biggest stage.From playing in our domestic league to Cleveland Cavaliers in the NBA; and your exploits at the national level were never unnoticed, hence this honour.Congratulations as we expect others to come."Mark stated.
The former power forward was drafted to the NBA in 2006, and became a board member of the Nigeria Basketball Federation NBBF, between 2017-2021.
NYG 2023: FG Charges Participants to compete Fairly In Spirit of Unity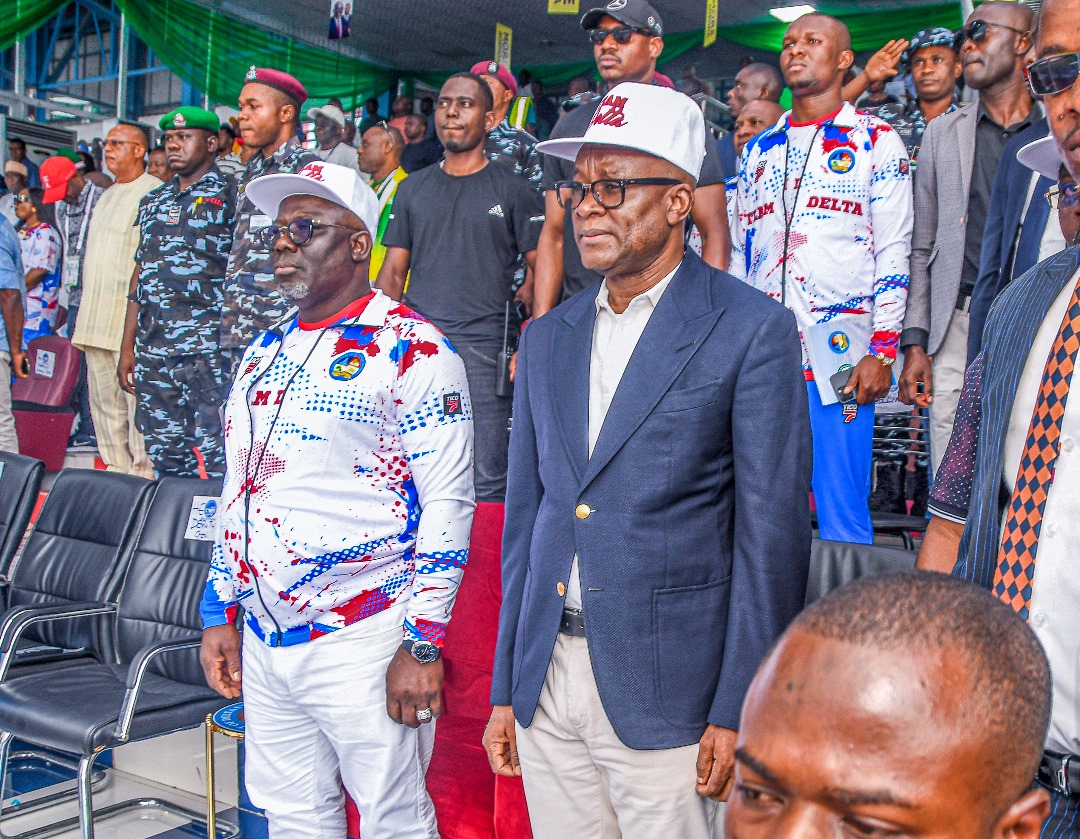 As the 2023 National Youth Games kicks off, the Federal Government has called on participants in the country to ensure they compete fairly in the spirit of Unity of the nation.

The President and Commander in Chief of the Armed Forces of the Federal Republic of Nigeria Asiwaju Bola Ahmed Tinubu gave the charge today when he declared open the 7th edition of the National Youth Games holding in Asaba, the Delta State Capital. 

The President stated that the aim of the games which was conceived in 2013 was to reposition sports at the grassroots level and to facilitate the discovery of budding talents in the country.

Represented by the Honourable Minister of Sports Development, Senator John Owan Enoh,  the President stated further that National Youth Games serves as an effective platform for talent identification and development as well as a level playing ground for young athletes to achieve excellence in sports and not necessarily to compete for the purpose of winning medals alone.

He explained that the Games was designed not only to enhance and elevate sports globally and regionally,  but also to establish a standard for athletes' succession from one generation to another and enable for athletes participation in their community development as well as reinvigorate national unity and  collaboration amongst them.

President Bola Ahmed Tinubu informed that his administration is committed to the development of sports in the country and that was why he specifically created the Ministry of Sports Development and assigned a colossus administrator,  Senator John Owan Enoh to drive its affairs, in line with the policy thrust of government.

The aim he added, is to ensure that sports move from mere recreation to job creation, thereby providing opportunities for poverty reduction amongst our youth, both male and female through government's agenda of inclusiveness thus, improving on the security of our dear nation.

The President who congratulated Delta State Government for hosting the games urged officials and athletes to compete with the spirit of fairness and togetherness, while putting the interest of the nation ahead.

He wished the athletes a fruitful competition.

Earlier in his welcome address, the Executive Governor of Delta State Rt. Hon. Sheriff Oborevwori stated that since inception, the National Youth Games  has proven to be a cost effective and reliable tool to promote national unity, advance development and  peace at both national and sub-national levels.

He observed that if this is effectively harnessed, sports has the power to positively impact on the economic and social wellbeing of any society.

Sports, he noted, *plays a great role in the realization of development and peace, in its promotion of tolerance and respect, and the contributions it makes to the empowerment of women and of young people, individuals and communities, not to mention its health, education and social inclusiveness objectives.

The Governor noted further that the belief of the Deltans on these ideals was unshakeable and that is why he.said,*the Government of Delta State has continued to make its resources available to host national and international sporting competitions

In 2018, he added, the state hosted the African Senior Athletics Championship, and in November 2022, the 21st National Sports Festival. 

Gov. Oborevwori reiterated that the Stephen Keshi Stadium has become a venue of choice for hosting national football championships, as Delta is becoming the beehive of sports in Nigeria.

He assured all participants of a peaceful and exciting games as security personnel, protocol officers, traffic management teams, and volunteers are on ground to ensure a peaceful, safe and secure environment for free and fair competition.