INTERVIEW: No Amount Of  Intimidation Will Make Me Withrawal My Input In Promoting Gymnastics In Nigeria-Coach Asuquo
Coach Anthony Asuquo, hailed from Cross River State,  an International certified gymnastic Coach, a board member of Gymnastic Federation of Nigeria GFN in this interview on Excelusivenew Whatsaps Platform which  JOEL AJAYI OF THE GLEAMER ONLINE NEWS was part of, He spoke his passion for Gynmastic right from the Childhood,  development of grassroots; his desire for Gymnastic, the challenges and his passion to help the poor of the poorest Amongst other.
Good Afternoon Coach lt get to meet you, your name, your position and also what you are currently doing?
My name is coach Anthony Asuquo from Cross River state Calabar, from Akpbayo Local Government, a Gymnastics Coach, an International certified by the world body of Gymnastic to train gymnastic in any part of the world.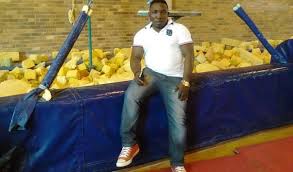 My question is the poor of the poorest Needy  in FCT was fed by Gymnastics Coach Anthony Asuquo and his team while giving palliative to them How does he feel putting smiles on their faces?
I derive joy in making people smile and in putting smiles on their faces, I remembered when I started gymnastics and that was in 1989 and I started from Lagos state sport council and then we lived in a place called Oshodi barracks in Bolade bus-stop  then there was nobody helping us out to get to the sport council, so we had to wait for the train to come after school, by 4:00 clock we will wait at the train station and when we get to the train, we run into the toilet because we don't have money to sort ourselves out.
Then, as soon as we get to Alagbomeji that's the bus-stop to Lagos state council now Lagos state sport commission, then we drop there and then run back for training and then right after training we look for  Moluwe and then moluwe from casino bus-stop and then we'll beg the conductor to help us all or we all remain standing or beg somebody to lap us at that time and then down to Oshodi again.
So, with all of this, I remember there was nobody helping us out, we're just trying to push our ourselves to make sure we get a better life for ourself and then you know our parents weren't rich and I saw a whole lot of poor people out there so, I just had it at the back of my mind that anytime God is going to bless me am going to make sure I reach out to the poor and just to make them smile, because I was actually trained by a single parent who sold her wrapper to put me in school and then I was actually doing gymnastics at that time, so it was a lot I decided to give to the poor back in anything I have in this life because am not going to take anything to heaven, so I prefer to give back to the poor, it makes me happy and I always want to stand for the truth to make sure children are happy.
I always want to leave legacy,  because leaving a legacy people are going to learn from that but giving them currency, giving them money, they are only going to spend it but you're not going to impact anything in them, this is why I love putting smiles on children face and also I just want to make them happy.
In what way did Covid-19 affect the game of gymnastic?
Yes, concerning the COVID-19, so many village that we visited, many of them do not know what COVID-19 is all about, they don't know how to wash their hands properly, they don't even have good water not to talk of for them to wash their hands and I went there, we shared sanitizers and I told them to take care of themselves and how to take precautionary measures incase visitors come visiting, then so they don't stay too close, I practice social distance as much as possible.
I also train some of the children basics of gymnastics, concerning the COVID-19, we went all the way to different villages, like 3 different villages in Mpape, we went to Wasa that's the IDP camp, where you have over 5,216 IDP's  living there and then we went to Aro a vulnerable area around games village in the bush and we went to Lugbe also and all of these places that we visited  they are many none of this people have gotten the N5000 that the Federal Government promised them and that is disheartening but I pray God help us, so that is what exactly am doing to make sure I put smile back on their faces.
Firstly let me applauds the Gymnastic federation for making the game of gymnastic in front burner in Sports people, i want to ask what has been done by the nigeria gymnastic federation in the grassroot level secondary school games to ensure youth want to compete in Gymnastics?
Yes I must tell you that it takes physical preparation for you to be able to grow the grassroot sport and if you want to grow grassroot sports, there must be a physical preparation that you send out to all the 6 geo-political zones and then, you are going to assign the technical representatives to look at the program and guide them in terms of the rules and regulations and make sure the physical activities is meet and properly fix.
Right now if we're talking about grassroots sports in Nigeria, I only see individual talent, I think mostly from the coaches, if we're talking about federations I've not really seen any federation in Nigeria that has that policy concerning the physical preparation to train athletes from grassroot to competitive level and that's it.
How well are the policy made by our representative in government on the issue of sports especially gymnastic, Skating and other sporrs that are not well known?
And about the Government policy on other sports and ever since I've been competing at the national sport festival, since 1989 to 2006, I've never seen us record our goals at the national sport festival, am talking about Nigeria in general though we've been able to discover acrobatics and exceptionally outstanding talents that we've gotten from the national sport festival but recording their goals what I mean by that, you getting their datas, each athlete data, if you're able to get that and record this and all of this federation to keep records of all this athletes, so that they don't just fade away because many good athlete they faded out because there is no encouragement from the federation or from their different sport councils.
I must tell you that, many athlete don't get paid and they just go for training and after training they will sort themselves, because they just get to call them during the national sport festival and try to bribe them with a whole lot of money and then give them contract and after doing sports festival they just let them go.
After the sport festival they just let them go, anytime there is a competition they just call them i think this is not really good for our sports.
So, the policy concerning the grassroot sport we should be able to record goals and get preparations across all federations in Nigeria.
And then also I believe we should have a monitoring team just like when I attended my coaching course at the university of Pretoria, South Africa, I study sport science out there, so we have some physical preparations that is given to each athletes, like as I speak to you right now .
Talking about the national sports festival in Edo which has been putting on hold becasue of the covid-19 I want to ask is gymnatic capture in the national NSF?  if yes how many States are participating? and what happen to these athletes after competing is there continuity.
Talking about what would be the feedback after the national sport festival and before then you asked  if gymnastic would be in the festival, gymnastics is going to be in the sport festival, then we have about 17 states that should be taking part in gymnastics in both aerobic gymnastistics, artistic gymnastics and power tumbling gymnastics and this is a new arm, aerobic and power tumbling gymnastics, they are the new arm of gymnastics introduced to enable us get more medals and for those that couldn't flip so that they can join aerobic gymnastics because anybody can do aerobic gymnastics because it is very simple and also if you follow the elements right then, you should be able to participate in aerobic gymnastics.
Despite your unquantifiable contributions to the growth of Gymnastic Game in Nigeria, the jealousy, persecution and all victimization especially from the present board, condemnation instead of commendation. Coach, will you consider withdrawing your contributions toward the growth and development of Gymnastic in Nigeria?
I am going to say no, I am not going to withdraw my input in promoting gymnastics in Nigeria. if i dont have Nigeria Gymnastics federation in mind or i dont want to grow gymnatic in nigeria, i would have gone to other country that had offer me good pay, not even clubs calling me, countries to come and work with them and i must tell you that when GFN was banned from the international body, I spoke with President of  FIG, i spoke with programme manger all over the world.  He said we cant just killed gymnastic in Nigeria.
So, myself and the then Secretary General of the Nigeria Gymnastic Federation  Ngozi Anayo and representative from the ministry we went to the bank and from my account I paid $800 to the international body and we pleaded with them and they lifted the ban.
The present president and past president refuse to pay, but i paid that money to lift the ban and as of today they are enjoying that benefit from the international body.
Yes, talking about jealousy this is quite unfortunate, i understood that the tree that besr more friut ended up been stone more and i will continue to do my best. I must tell you that from National youth games in Ilorin up till the  last NSF also the All Africa games  i was suppose to go for that the president pulled me out from, i have never gotten an accreditation card.
He stopped my Acreditation Abuja NSF, at Ilorin I did not get an accreditation card.
Even,  at international level he stopped me, I was suppose to represent nigeria as one of the best coaches in Africa at my brivet course because, if i pass the course, I am suppose to be an africa representative all over the world, exam was December 2019 and letter was sent to Gymnastic Federation of Nugeria and Secretary want to pass the letter unto me, but President ask her not to do so, and he single handedly told me that he will not let me attend the course, i told him, that he is not doing me but he is doing the country, because we suppose to be in another level, so that we can have a say internationally.
I like the president i am not fighting with him but i dont know why the jealousy and hatred coming from his side, i was the only one that is been certified by internatiinal body in Aerobic gymnastics level two, i dont know what i have done to him, he said disrespected him, i dont when? but i am pleading if i disrespected him, let him forgive me, but i jnow i have not done anything. I will continue to contribute my quota to the development of Gymnastic is Nigeria.
For the current pandemic what kind of exercise did you recommend for athletes who are suppose to be part of the olympic, what do you think they should be doing at the moment?
What physical exercises would the athletes be doing, ive been able to reach out to 2 of our representatives, 2 athletes that will represent Nigeria at the Olympic for the first time, am talking about Uche Eke and Annabel and I've been talking to Uche via online and we've been having this online class, he's been taking physical preparation serious and like I said before, you gather physical preparations that guide you from the beginning of the year to the end of the year so the only thing that the gymnast is not going to be doing now is the big element like the flipping or the flying skills.
The athlete will just base on the physical preparation that is already been given to the gymnast by the coach and then the coach will do like the video call have been doing already to just guide the athletes and psychologically put that athlete in that state to know that yes, you have a game ahead of you and you must not eat anyhow nor go out of shape, I think we've been working on that physical preparation for now.
And for the amateur like us who only do olympic what kind of exercise do you think we should engage in?
Second question, for people that are at home, what exercise are they going to fit into, please when you wake up in the morning stretch, make sure you stretch your body, you can do like a sit up, you can put your legs under your bed and put a foam behind you, do a rotation, you do 20 sit up's, you repeat it 5 times, then you do 20 push up's, you repeat it 5 times and you do 20 jumping jarts, 5 times, you squat and back up and you repeat that 5 times and right after then you stretch again and that's all for the morning and if you continue with these for the evening its going to improve the state of your health.
Also, I am not a dietician but I advise you that you take fruits and the best medicine you can give to yourself is doing exercises, drinking a lot of water, eat well, make sure you have tomato in your food, fresh tomato not grounded one, and then cabbage,
What can we do to make gymnastic a household sport in Nigeria considering that many parents are scared of involving their children  unlike football?
On what to do, to make gymnastics approved sport in Nigeria considering that many parents are scared of involving their children unlike football? I must tell you gymnastics is the mother of all sports, gymnastics is the number one sport in America and also in South Africa, in American alone it has created over 40,000 jobs and many in Africa.
Many of these universities gymnasts mostly get more of this scholarship than any other sports, to promote gymnastics Nigeria is not really difficult but it takes creative federation to be able to grow gymnastics in Nigeria.
Yes, i believe that children are not scared to try something new if you explain to the parent and give them the proper physical preparation they are going to guide themselves through so that a child or the child will not just come to the gym and then without looking at preparation the child just want to go and try something new.
I must tell you none of my gymnasts have ever gotten injured, that's why the parent love what we're doing and then you can see them with the gymnastics t-shirt and they very happy and gymnastics shorts, just something, and then we do programs, I do programs more than 20-30 programs every year with this children and then that's why I said it before now, if we have a creative federation I believe we don't need money from the governments, parents are willing to support and even a market woman can afford to give the child 500naira to just get something about, so it is how creative you are and how you can sell your market out there for people to be able to buy your products.
Beyond Gymnastic,you seem to have passion in helping the needy.When will Coach Tony lunch a foundation to care for the needy?
And we'll get the foundation very soon and first of all I want to focus on gymnastics and probably the foundation is going to come back and my good is to see how we can produce Olympic champions for the country.
What is your  position of the catch them young program, what about the foreign exchange program to Japan, China and other part of the world?
If you're talking about that we're only training the rich, the rich children are also children, I must tell you the rich also cry and how do you identify someone that is rich and someone poor, the rich person is the state of the mind and not by the money you have, some rich parents cannot afford to take their children to the gym instead they take their children to the cinemas, they buy sharwarma and all sort, video games but if you get the ones that are coming to the gym, they are not really rich but are ready to push their children to the next level, yes down to the question we have Tomisin and many other boys.
Many of gymnasts come all the way from Suleja, Gwarinpa, Galadimawa and some from Mararba, and you see them coming to the gym, some I haven't seen their parents for close to 3 years and we have muhammed that came all the way from Ogun state, all this are less privileged today but today they're superstars in gymnastics, Tomi won a gold medal in Ilorin last year and the previous he won it and last year he won it again, he comes all the way from Suleja and he travelled with us to South Africa, the parents couldn't afford to buy tickets for him not to even take him to the airports, not to purchase visa, so what we do in our club we bring parents together, parents that want their children to do gymnastics and then we bring them together to think of how we can contribute to society to support a particular child like they supported Emeka that we call coach Emeka today, he's one of the top aerobic gymnasts we have in the country, Emeka started gymnastics with me when he was in JSS 3 and right now he is in the university, he got a scholarship in South Africa, all of these is through gymnastics and Emeka's parents are in the village not even in Abuja, he stays with me in Abuja for over 6 years now and his parents is not rich, I feed him and we pay his transportation and right now we've gotten them an accommodation where they live.
I don't get paid from the government, its what we task this parents to see like 5000 naira in a month while some are not even paying, and this is where we get money to pay the coaches and right now we have over 12 coaches in our  gym with a secretary and we run the gym, we run the lighting at times in the gym, we'll fix the toilet, do the plumbing job and then so many of these parents are the ones contributing to make sure the facilities in the stadium Is okay, so we are not just training the rich children but are also contributing our own side to make sure that gymnastics is well known over the world and also many of the equipment we have in the stadium are for TIG and not even for the federation, so this is what were doing we don't only train the rich,  but we train both the poor, the vulnerable and the rick.
Like the humanitarian service we went to do, I spotted out some gymnasts and then we give them scholarship, we're going to train them from grassroots to competitive level, you are going to see them coming, I remembered last year we trained UNESCO children, over 300 vulnerable children and then in December we did the same, I went to the handicap school, I also trained some children over there at the handicap home in Kuje, and why did I do that, exercises are also good for the children, I used my own method to do like a dance for them, inside the dance there's this aerobic movement that stretches them, psychologically they are not aware of it but they just get to enjoy it at the end of the day, so I use different method to teach them.
Everyone is rich in the gym, there is no poor person in the gym, so even a poor child can be sitting with a governor's child and you never know, it's just a thing of the mind and how you project it to the parent.
What about the foreign exchange program to Japan, China and other part of the world? What about the internal crisis between the National President and some other members of the Federation, like Chief Obanor from Edo State?
Yes, they said you cannot do anything beyond your capacity, what you don't know is actually bigger than you, concerning the exchange program with Japan I remember when the Japanese ambassador came to national stadium with coach Isaiah Obano, a chief coach of the national team for so many years he's been the one, they are the pioneers of gymnastics in Nigeria, chief coach Obano, but they decided to kick him out the president decided to kick him out and use his own brother, chief Obano refused to give some information about the exchange programme that we are having with the international body because I remember a coach from the Lagos state commission they sent a letter to him and from Japan and he hasn't passed the information to the federation yet because they are going to snatch the programme from him and he wouldn't get to take part in this programme and the programme is going to be done by the presidents people and his brother.
So because of this, the president working with his brothers, people are scared of passing information or try to promote the federation from their own end, coach Obano has a lot of experience to grow gymnastics in this country and also he has a whole lot of connections outside there, I don't know, coach Obano is somebody we shouldn't just push aside, he is a father that will give us a lot of information and then share his expertise with us based on how we can grow gymnastics in Nigeria then we can all work together to see how to purify this sport and then move to the next level.
CG Adeniyi Pledges More Support For Customs Team
Joel Ajayi
The Comptroller General of Nigeria Customs Service NCS Adewale Adeniyi, has pledged to continue to support the Customs Sports Teams to enable them to bring more glory to the service.
CG stated this on Tuesday when Nigeria Custom ladies secured the tickets to represent the Service and Nigeria at the forthcoming 2023 Africa Women's Basketball League AWBL in Egypt.
Comptroller General who was represented at the event by the Deputy Comptroller General Enforcement Inspection and Investigation Abba Kura charged the team to go to Egypt and make Nigeria proud.
He said: "For this tournament, they have done well, the Service is going to encourage them to do more, I pray for them to succeed in Egypt, and to come back with the trophy to Nigeria.
"It has been a tradition of the Nigeria Customs Service to encourage officers who participate actively in sports, apart from that, we encourage all our teams in all sports and make sure that they succeed in any event they participate."
However, at the end FIBA Africa Zone 3 Women Qualifiers tournament in Abuja, NSC topped the table with 6 points after winning two games, while the ASPAC of Benin Republic played two games won one, and lost one to secure 3 points, and the third participant Olukoya Ladies lost the two games with no points.
The Borders ladies defeated the Olukoya ladies by 55:49 to secure their second victory.
Also, the 2023 Africa Women's Basketball League will take place in Cairo, Egypt from December 11th to 18th this year.