LOTS OF POSITIVES TO TAKE FROM RWANDA AS NIGERIA MISS OUT ON AFRICA'S QUALIFICATION SLOT
Nigeria ventured into the ICC T20 World Cup Africa qualifier in optimism of picking the only single qualification ticket for the World cup qualifier next year. Results did not go as expected but the young team can be proud of their experience and take the positives as Nigeria will return to the drawing board.

Already out of contention for the qualification ticket, Nigeria had to complete the tournament with final matches against Kenya and Tanzania on Saturday 20th November.
*MATCH 5: NIGERIA Vs KENYA*
Kenya won the toss and elected to bat first hoping to set a big total which they did. Still in contention for a chance to pick the qualification ticket in the tournament, the danger man from the last game against Nigeria Alex Obanda, settled into his strides quickly with 29 runs off 18 balls, supported by Rushab Patel with 22 runs off 12 balls to leave Kenya on 56 runs for the loss of 3 wicket after 6 overs of power play. Kenya eventually finished with a huge score of 168 runs for the loss of 6 wickets in 20 overs.
Irfan Karim was the star player on the day for Kenya by scoring 52 runs off 38 deliveries, supported by Alex Obanda with 29 and Rushab Patel will 22 runs as the best bating figures for Kenya.
Ridwan Abdulkareem got 2 wickets conceding 18 runs in 3 overs as the best bowling figures for Nigeria.
In the second innings, Ademola Onikoyi looked inspired firing on all cylinders scoring a whopping 22 runs off the 1st over to give Nigeria a dream start. However, uncomplimentary efforts from Segun Olayinka, Joshua Ayannaike and Asmit Shrestha very quickly quenched whatever charge from the Nigeria team in an effort to chase down the required total. Onikoyi fell for 27 runs off 12 balls and the run chase was as good as over. In the middle of the pack Sessan Adedeji and Samuel Mba tried to put up some fight with 24 and 20 runs respectively while Ridwan Abdulkareem late 10 runs consolation at the tail end could only propel Nigeria to 108 runs all out in 16.2 overs.
Vraj Patel took 5 wickets 1 maiden over, conceding 12 runs in 4 overs strongly supported by Emmanuel Bundi with 4 wickets, conceding 16 runs in 3.2 overs for Kenya.
*Kenya won by 60 runs*
*MATCH 6: TANZANIA Vs NIGERIA
Tanzania won the toss and elected to bat first sending in Nigeria to field. Nigeria produced their best bowling performance of the tournament as Tanznia lost 3 wickets in the power play overs. Nigeria bowlers continue to pile the pressure and wickets fell every other over to leave Tanzania on 67 runs for the loss of 6 wickets at the end of the 12th over. A late surge from Kassim Nassoro 40 off 25 balls and Ally Kimote 32 off24 balls propelled the Tanzania team to eventually finish with 136 runs for the loss of 7 wickets in 20 overs.
Sesan Adedeji got 2 wickets for Nigeria while Mohammed Taiwo, Peter Aho, Isaac Okpe, and Chima Akachukwu all settled for just 1 wicket each.
In the second innings, Nigeria had a dream start and poised to win their first game of the tournament when they sat comfortably on 41 runs for the loss of 2 wickets after 6 overs of power play. Like a pack of cards, the Nigeria bating line up crumbled with no resistance at any point to leave the team with a tournament lowest score of just 67 runs all out in 14 overs.
Only Samuel Mba's 23 runs off 22 balls and Sesan Adedeji's 12 runs off 14 were the only double figures for Nigeria in their attempted run chase.
Jatinkumar Darji took 4 wickets conceding 10 runs in 4 overs for Tanzania, supported by Sanjay Takhor with 3 wickets, conceding 30 runs in 4 overs as the best bowing figures for Tanzania.
Tanzania won by 69 runs
FG to Diversify Sports For More Youth Empowerment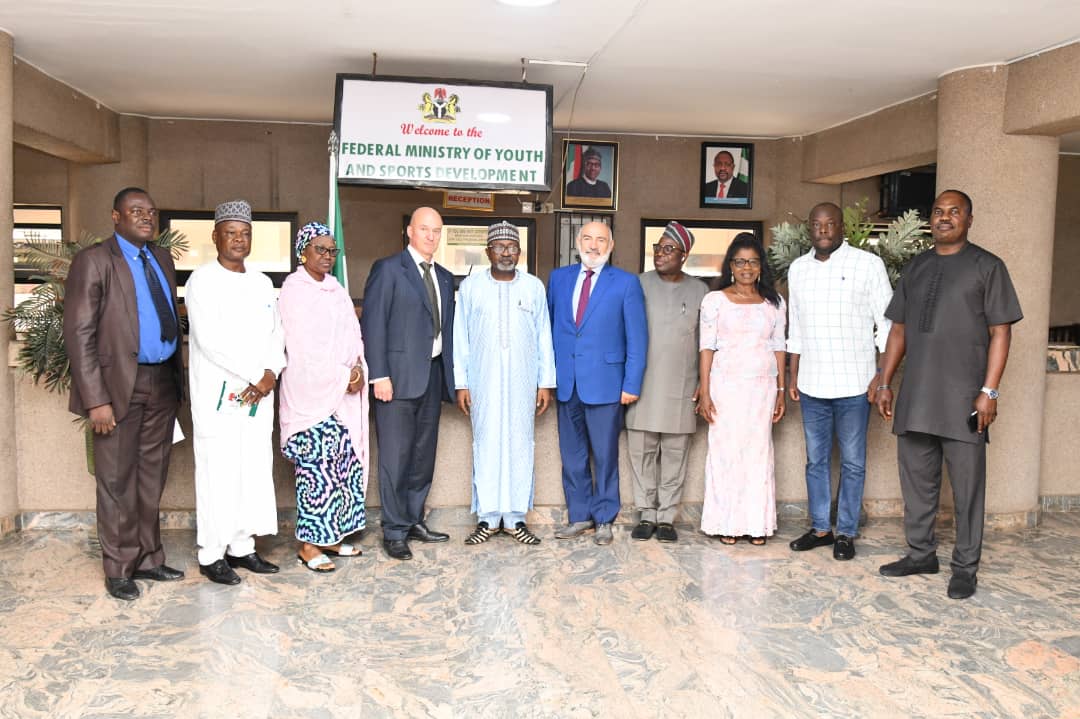 The Federal Government has assured that it will explore all possible avenues for more youth participation in sports with a view to  empowering them to become self employed and self reliant so as to contribute to the socio-economic development of the country.

The Honourable Minister of Youth and Sports Development, Mr. Sunday Dare gave the assurance  on Friday in his Office in Abuja when he received the Executive Director of Hand – To – Hand Sports Federation of Moscow.

Represented by the Permanent Secretary, Alhaji Ismaila Abubakar, the Minister stated that "this was in line with the present Administration's policy thrust which is geared towards making the teeming Nigerian youth entrepreneurial, self-reliant and employable".

According to him, "the Ministry will put up workable modalities that will make Nigeria not to only key into the Hand – To – Hand Mashal Sports but to also open up more doors for our youth involvement in the various fields of sports world wide".

He therefore urged the youth in the country to keep themselves abreast with the various policies, programmes and initiatives of the present administration so as to take advantage of every available opportunity to better their lives.

Earlier, the Chief Executive Administrator, Hand – To – Hand Sports, Moscow, Mr. Sorgai Poroshin stated that he was in the Ministry to introduce the game to the country.

According to him, the Sports which had been in existence for the past sixteen years has a thirty- eight-country membership, including Ghana, hence the need for Nigeria to see the possibility of keying into it especially  as it is the giant of Africa. 

He noted that Nigeria's acceptance of the game will further open a new horizon for the country's youth to make their mark in the Committee of Sporting World.