OFFA VC tops table standing at 2022 Nigeria Volleyball Premier League
OFFA VC are currently leading the men's table standing on Day 4 of the ongoing 2022 Nigeria Volleyball Premier League in Akure on Monday.
OFFA VC is the only club yet to taste defeating defending champions, Kano Pillars, Nigeria Police Force, Kwara United VC and Sunshine Spikers at the ongoing leading winning all their four matches with a total of 12 points. NSCDC is second position with 10 points winning three matches and lost one; NSCDC only defeat was from the hands of Nigeria Police Force.
Nigeria Customs Service currently occupied third place with 9 points after recording their first defeat from NSCDC out of four matches. Nigeria Correctional Service are fourth place with 6 points winning two games and recording two defeats. Nigeria Police Force who started the league on a high spirit are presently fifth position with two wins and two defeat with a total of 6 points.
In sixth position is COAS Spikers with 4 points from two wins and 2 losses while newly promoted Kwara United are seventh position with a total of 4 points from 1 win and 3 defeats.
Defending Champions, Kano Pillars have won just one game and recorded three defeats with a total of 3 points. Host Sunshine Spikers have three points winning 1 game and losing three while Kada Kings are rocking the bottom table losing three matches and recording one victory with a total of 3 points.
Matches resumes on Wednesday after two days of break at the ongoing 2022 Nigeria Volleyball Premier League.
FG to Diversify Sports For More Youth Empowerment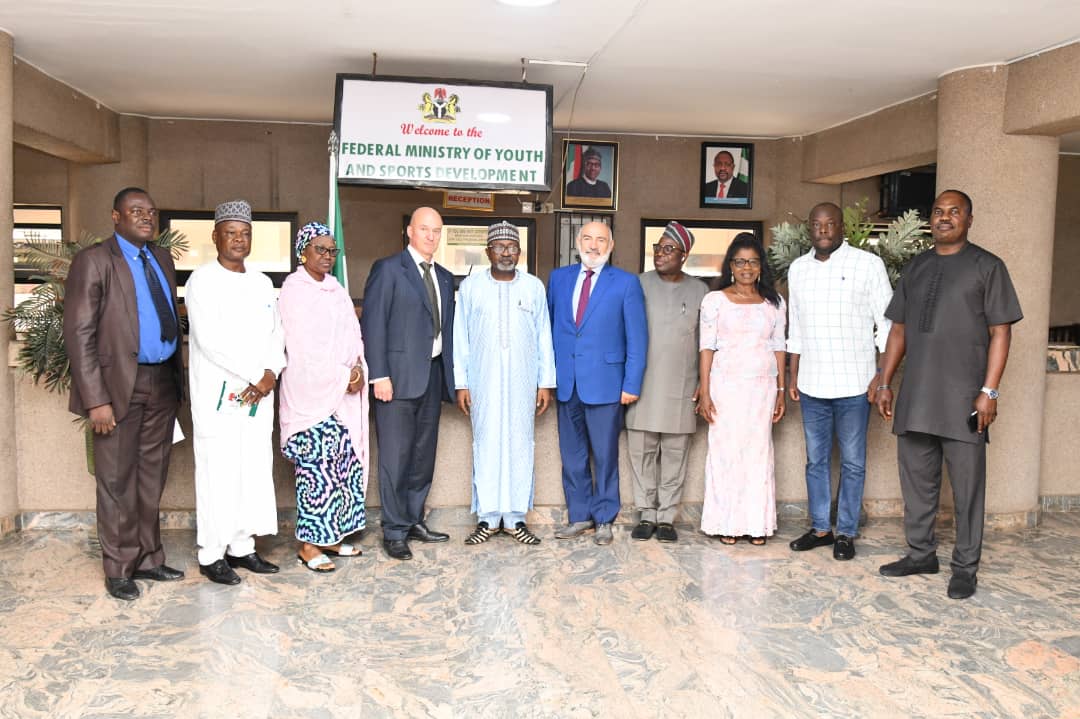 The Federal Government has assured that it will explore all possible avenues for more youth participation in sports with a view to  empowering them to become self employed and self reliant so as to contribute to the socio-economic development of the country.

The Honourable Minister of Youth and Sports Development, Mr. Sunday Dare gave the assurance  on Friday in his Office in Abuja when he received the Executive Director of Hand – To – Hand Sports Federation of Moscow.

Represented by the Permanent Secretary, Alhaji Ismaila Abubakar, the Minister stated that "this was in line with the present Administration's policy thrust which is geared towards making the teeming Nigerian youth entrepreneurial, self-reliant and employable".

According to him, "the Ministry will put up workable modalities that will make Nigeria not to only key into the Hand – To – Hand Mashal Sports but to also open up more doors for our youth involvement in the various fields of sports world wide".

He therefore urged the youth in the country to keep themselves abreast with the various policies, programmes and initiatives of the present administration so as to take advantage of every available opportunity to better their lives.

Earlier, the Chief Executive Administrator, Hand – To – Hand Sports, Moscow, Mr. Sorgai Poroshin stated that he was in the Ministry to introduce the game to the country.

According to him, the Sports which had been in existence for the past sixteen years has a thirty- eight-country membership, including Ghana, hence the need for Nigeria to see the possibility of keying into it especially  as it is the giant of Africa. 

He noted that Nigeria's acceptance of the game will further open a new horizon for the country's youth to make their mark in the Committee of Sporting World.