Sunday Dare Assumes Office As New Sports Minister, Seeks Stakeholders Support
Sunday Dare Assumes Office As New Sports Minister, Seeks Stakeholders Support
…Promise to face-lift the Sports sector
Joel Ajayi
The newly appointed Minister of Youth and Sports Mr Sunday Akin Dare who resumed duty on Wednesday shortly after President Muhammadu Buhari Inagurated the new cabinets has urged all the youth and Sports stakeholders spare no effort to face lift the Sports sector in the country and beyond.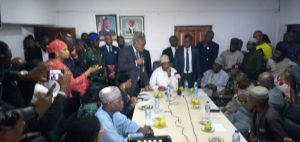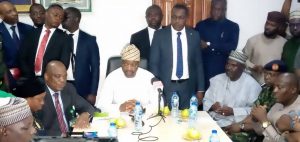 Mr Dare gave the charge in Abuja on Wednesday during his first meeting with all agencies as well as all stakeholders under the ministry saying the sports development remain the critical agenda of President Muhammadu Buhari.
According to him, As you can see the work have started now so let us be ready, let us roll our sleeves and let us work together as a team.
"The President agenda stand on three legs, that is security, revertilization of economy and fight against corruption.
"There also eleven key areas the President is intend to energies in the next four years. At center of that is the lifting of 100million Nigerian out of poverty.
"When we look at our Population we know that the youth stand on top,  so the youth development is the key to the success of any government.
"We have youth, we have sports so, our mandate is clear, we must broaden our horizing, we must deepen our work and quality of what we bring to the table."
Speaking further: I am not unaware of challenges, controversies and development within this ministry that is dear to heart of every Nigerian.
"Beyond soccer, we have others sports but heart work is youth development beyond sports.
"There other way you can develop the youth, we can give them digital skills, we can help them with their status, so we will be thinking outside the box."
Mr Dare also promised to re-write the fortune of Youth and sports in the country: "We shall find a way of bringing sports from back pages to the front pages with positive news.
"We are going to have crucial conversation, some of them might be confrontation, I will also ask some difficult questions, I will try to extract best out of everyone. Because my mandate is to ensure this country show up the best among the best country in the world in every areas.
"Youth and sports development is critical to Buhari's agenda.
"Beyond that, we have a youth population that is restless, youth that is hyper that is our mandate but to achieve that we need to come and work together as one.
We also intends to strength inter-ministerial  collaboration, we shall go to ministries that we can work together, by putting skills and resources together to make huge success in this assignment." He assured.