Water FC Join Forces With Waldorf Knoll Academy To Develop Football Talents
Water FC Join Forces With Waldorf Knoll Academy To Develop Football Talents
Joel Ajayi
Water Football Club of Abuja have joined forces with one of the best schools in the world Waldorf Knoll Academy a world-class sports and education school toward the development of talent in the country.
The partnership was sealed on Thursday in Abuja at the when the Waldorf Knoll Academy launched a world class Sports-Education school in Jabi, Abuja, Nigeria, the first educational center in Africa to facilitate education via the latest digital technology.
Water Football Academy which is run by a famous football administrator, Mr Makanjuola Nureni, is a renowned sports academy that has invested so much in grassroot sports development in Nigeria.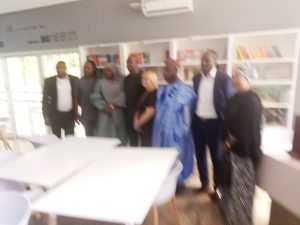 However, the academy have produced world-class stars like Micheal Babatunde, Emeka Chinonso who  represented the country in 2014 World Cup and the U20 World Cup respectively. Also, one of the most recent revelations of Water FC is Success Makanjuola, who recently signed for the LaLiga side, CD Leganes. Which is a great stride for the football academy.
Speaking at the occassion,  the CEO of Water FC Nureni Makanjuola who was full of joy expressed that the partnership is central to bringing about development to football and education respectively.
According to him, my vision is to let education and football go together and this school when they call me to be a partner to them. It gives me joy because with that my dream comes through
"It's a big avenue for me that most of the people who want to play football can play and they can also be educated
"Also, why I want education and football to go together is that you have short period of time to play football but if you support it with education after playing football you can know how to manage your resources, to manage yourself for the rest of your life, therefore, it's a great joy for me to partner with this school on education and football.
"Our own partnership is to develop young talents that are student here, to put them in the right part for development in football.
"The facility here is world-class facilities and I appreciate it."
Makanjuola, therefore  called  on football lovers and lovers of good things to support him in growing grassroot sports in Nigeria as he believes that there are abundant of talented footballers in the country that can be raised to stars if given all the support needed.
Also, the event was graced by notable sports stakeholders such as Ex Super Eagles players, Ministers, National Assembly members, Permanent Secretaries and officials from various ministries.