Women's Football Convention: FIFA invites Gender Advocate, Aderonke Bello  
Women's Football Convention: FIFA invites Gender Advocate, Aderonke Bello
Just like a saying that, there is reward for every good job any human being does, this is a story of the hard-working, and passionate gender advocate and human rights activist, Ms Aderonke Bello as her good works had caught the attention of the World Football Governing Body FIFA by inviting her to the forthcoming Global Women's Football Convention.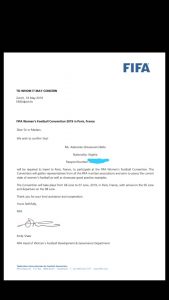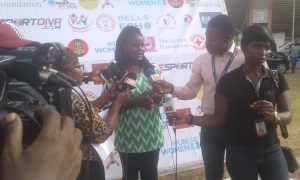 FIFA made this known in a letter issued on the 16th of May 2019, by FIFA Head of Women's Football and Governance department, Ms Emily Shaw.
According to the letter, Ms Bello, an award winning investigative sports journalist and publisher of thesportdiva.com will be required to travel to Paris, France to participate in the FIFA women's convention. The convention will gathered representatives from all the FIFA member associations and aim to assess the current state of women's football as well as showcase good practice examples.
"The convention will take place from 6th to 7th June, in Paris, with arrival on the 5th June and departure on the 8th of June."
It will be recall that Aderonke Bello has been a consistent advocate for the growth and development of women's football, she led the #payfalcons protest when the Super Falcons were not paid their dues in 2016 until they were paid. She had delivered a keynote speech on issues bothering on Women's football. Hundreds of women and girls have benefited from several initiatives by her NGO, FAME Foundation.
.
CG Adeniyi Pledges More Support For Customs Team
Joel Ajayi
The Comptroller General of Nigeria Customs Service NCS Adewale Adeniyi, has pledged to continue to support the Customs Sports Teams to enable them to bring more glory to the service.
CG stated this on Tuesday when Nigeria Custom ladies secured the tickets to represent the Service and Nigeria at the forthcoming 2023 Africa Women's Basketball League AWBL in Egypt.
Comptroller General who was represented at the event by the Deputy Comptroller General Enforcement Inspection and Investigation Abba Kura charged the team to go to Egypt and make Nigeria proud.
He said: "For this tournament, they have done well, the Service is going to encourage them to do more, I pray for them to succeed in Egypt, and to come back with the trophy to Nigeria.
"It has been a tradition of the Nigeria Customs Service to encourage officers who participate actively in sports, apart from that, we encourage all our teams in all sports and make sure that they succeed in any event they participate."
However, at the end FIBA Africa Zone 3 Women Qualifiers tournament in Abuja, NSC topped the table with 6 points after winning two games, while the ASPAC of Benin Republic played two games won one, and lost one to secure 3 points, and the third participant Olukoya Ladies lost the two games with no points.
The Borders ladies defeated the Olukoya ladies by 55:49 to secure their second victory.
Also, the 2023 Africa Women's Basketball League will take place in Cairo, Egypt from December 11th to 18th this year.