Sports Minister Gives Account of Stewardship in Six Months
…Says You Can't Score Yourself in an Examination
Joel Ajayi
Minister of Youth and Sports Development Mr Sunday Dare, has said he remains focused on his vision for the Ministry in spite of the challenges facing the Youth and Sports sector and the country at large.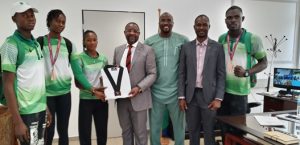 He said while giving account of his stewardship in the last six months in an interview in Abuja.
"It would be totally wrong to score myself. You can't score yourself in an examination. The score card should be done by relevant stakeholders who have been monitoring what we have done since assuming office.
"But by and large, we have tried to re invent the wheel of Youth and Sports Development, restore confidence in the sector. We have changed the wrong perception about the Youth and Sports Development Ministry,engage with critical stakeholders, the athletes and those that are genuinely interested in supporting us to actualize our vision. We have succeeded in convincing the athletes who are at the core of winning honour that we mean well and their welfare remains our central focus.We have re focused sports development by dwelling on the core issues that matter."
The Minister while maintaining that athletes remain top priority added, "Without the athletes winning laurels, sports wil be meaningless. So we have focused on infrastructural development, the development and discovery of athletes and taking care of their welfare.We have also insisted on doing things right to change the echo system in Youth and Sports and most negative perception that we inherited has changed. We met alot of challenges but when look back in a year or two we believe alot would have changed for good."
On the biggest challenges since assuming Office and he has been able to navigate around them, he said, "The Youth and Sports Development sector is not insulated from the challenges that characterise other Ministries and sectors of the society. We inherited alot of challenges like projects that were started and abandoned, those that were completely made to rot away, Youth unemployment and the sector that was completely neglected.
With all these problems, we had to devise strategic options of adressing the problems.
" We came up with the Adopt an Athlete Initiative and Adopt a Stadium. With this we have gone into partnership with committed individuals, Corporate bodies,State Governments, Government Agencies to support our athletes and address the infrastructural problems. These are problems that had always been and we had to take pro active steps to tackle them. This strategic move has achieved a lot with state governments like Edo, Delta, Anambra adopting athletes. Unlike in the past,money meant for athletes are paid directly into their account without anyone taking anything. This is to enable the athletes train well for the Olympics before it was cancelled Good enough, we ate constantly monitoring the athletes to know how they are faring.
"With the lockdown and postponement of all sporting event, we are keeping tabs on the athletes to ensure that they use the money well and also use private in door facilities to keep in shape."
Speaking on infrastructure, the Minister said Stadiums like the MKO Abiola Stadium, National Stadiums in Lagos and Ibadan are being given a face lift by individuals, just as the Ahmadu Bello Stadium in Kaduna has been given a new look courtesy of the Kaduna State Governor Malam Nasiru El Rufai.
FG woos foreign mining investors with lower production cost
Joel Ajayi
Cutting red tapes which slow business transactions and improving the security of mining operations are among fresh commitments unfolded by Nigeria's Minister of Solid Minerals Development, Dr. Oladele Alake at the Mines & Money Conference which opened in London, United Kingdom on Tuesday.
Addressing global stakeholders in the mining industry, Alake, in the 15-minute speech pitched for more investment in Nigeria listing unique advantages such as lower production cost due to surface mining and billions of dollar untapped minerals.
He quoted recent reports by audit firm KPMG which reported that mining's contribution to Nigeria's GDP rose from 0.3 percent to 0.85 percent last year, indicating 0.63 percent year on year growth.
His words: "The country's geological bounty encompasses over 44 distinct mineral types, found in exploitable quantities across more than 500 locations. Recently, recognizing the evolving global landscape and in response to emerging trends, Lithium has been included as a crucial strategic mineral of global consequence."
Dr. Alake said the administration of President Bola Tinubu has embarked on reforms to boost investment by streamlining procedures and reducing hurdles to attract foreign investors.
Showcasing recent progress in creating conditions for solid minerals development, Dr. Alake highlighted fresh data revealed by the Airborne Geophysical Survey, memorandum of understanding with German firm Geoscan to gather more data on solid minerals across the country and access to finance through a new funding facility launched by the Africa Finance Corporation and the Solid Minerals Development Fund.
The minister reminded the global mining community of the Federal Government 's policies on how mining operations must benefit the communities and lead to processing instead of wholesale export of raw minerals.
" Nigeria is currently emphasizing Solid Minerals Beneficiation and Value-Addition as a panacea for quick and sustainable growth of the Mining Industry…By adding value to our raw materials, we not only create higher value products but also generate employment opportunities for our teeming youth and increase the sector's overall profitability and contribution to the nation's GDP", he said
Dr. Alake urged investors to support socio-economic development of the communities where they mine to make mining mutually beneficial.
Citing the recent launch of the revised guidelines for Community Development Agreement which provides for social amenities, educational support, health and safety environmental facilities.