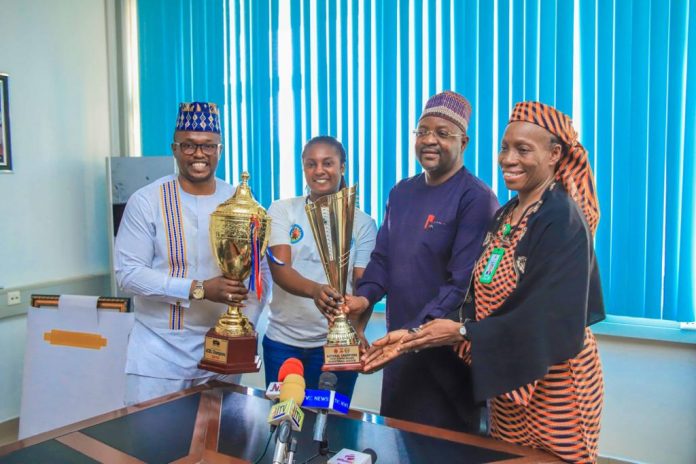 … Sponsor two Players to Tokyo Olympic
…I will spend my last kobo to supports Basketball -Air Warrior Chairman
Joel Ajayi
The Minister of Youth and Sports Development Mr. Sunday Dare has applauded the Chairman Air Warrior Basketball team of Abuja a private individual not by government committing his resources for the development of the sport in the country.
The elated Minister promised that the ministry will sponsor two of the players to the 2020 Olympic Tokyo Japan to watch team Nigeria playing as well introduce them to Olympic scholarship fund that will help to support their education.
It will be recalled that 14 athletes home-based and Europe based have been adopted by private individuals and corporations.
He gave this commendation in Abuja on Friday when he received the 2019 basketball national league champion in his office.
Minister reiterated that his administration's interest in grassroots and youth football development which he insists is the way to go in order to achieve success in football and other sports in the country.
According to him, I very excited today, I am happy to receive the two of them have made it to the national team; this team is full of hung talent.
"The story is very compelling, this is their first time they will be in National league and they came out unbeaten, no team has ever broken that record that is hugely commendable.
"And also their narrative, supported by a private individual, not the government not the sports ministry that says a lot that private sector can play a keep role developing our sports, develops talents and also nurturing the athletes.
"On this point, we are going to make sure that NBBF works closely with them, we are going to support them to remain a strong team. We intend to take two of them to the Olympic to watch team Nigeria playing.
"As for the fine from FIBA Africa fined for the inability of the team to travel for the continental event, we are working closely with NBBF, it's already settled the matter, the fine will be paid.
"For our sports to develop in the country, we need several AbudulMajid (Air Warrior Chairman)   The ministry will sponsor an exhibition match, we are going to write a team in Africa to play you in Abuja or Lagos and we put it in TV for people to celebrate you.
On his own, the chairman of the Air Warrior Basketball Team Alhaji Solademi AbudulMajid thanked Minister for the gesture saying that the gesture will go a long way to even boost player's morale
"It's not easy, but with determination and focus everything will be good, at a time I asked myself why am I doing this? We are Nigeria championed, we couldn't go to continental and we also received fine but the Minister visit has changed the narrative so that even if it's my last Kobo, I will put it on this team and supports the people on the street."